Biostatistician Grant Dornan Named Director of the Center for Outcomes-Based Research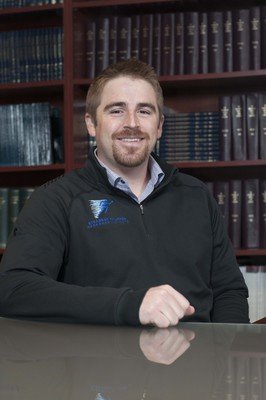 Question: What happens when a talent for math, an interest in science and medicine, and a love of sports converge at the base of a ski mountain in Vail, Colorado?
Answer: Grant Dornan.
Grant Dornan has been SPRI's Chief Biostatistician for the past five years and was recently named Director of the Center for Outcomes-Based Orthopaedic Research (COOR). He has a B.S. in mathematics and a M.S. in statistics, both from Colorado State University in Fort Collins, where he grew up.
Asked when he began to realize that he had a knack for numbers, he said that math always kind of made sense to him. He was doing square roots in the second grade—"just easy ones"— as he describes it.
Even though he describes himself as a math nerd, he was and is an athlete. He played baseball, soccer, and golf as a kid, coached high school baseball for seven years while in college and graduate school, and now enjoys road and mountain biking, as well as playing in four or five Vail Recreation sports leagues every year.
USING DATA ANALYTICS
Grant graduated with honors from Colorado State, and while there used his growing skills in data analytics to investigate topics ranging from stock market prices to marine habitats to baseball player modeling.
"For a long time," he says, "I thought having a front office position in Major League Baseball would be a dream job, and I think I would have enjoyed doing it for a period of time. But medicine is a big field and the impact of this kind of work is really meaningful."
"I couldn't believe my luck in finding a job as a biostatistician for the Steadman Philippon Research Institute," he says. "I was in the market for a job and the announcement for this position came through my department at school. It did not mention Vail as a location."
"I applied over a weekend and Karen Briggs called on a Sunday morning about coming down to Vail for an interview," he says. "Pretty quickly I fell in love with the location and the kind of research being conducted at SPRI."
"The alternative at that time was going to Australia to work on a Ph.D. It was a difficult choice, but I'm glad I made the decision to stay here."
SINCE JOINING SPRI
During his time as a biostatistician, Grant has worked on an array of clinical outcomes, bioengineering, quantitative imaging, and regenerative medicine research projects. In his new role, he will continue to pursue his data analytic interest, but will now additionally focus on team-building and strategic planning with the 12 staff members assigned to his department. Eleven of them conduct active research; the twelfth is data collection coordinator. At any given time, Grant is involved with 10 projects "on the front burner" and another three dozen in some stage of the research process.
"COOR is organized into pods for different joints," explains Grant. "For example, the shoulder team has three people who primarily do research for Dr. Millett. There are pods and coordinators or directors for upper extremity joints, the spine, hip, and lower extremities."
The six Sports Medicine Fellows and a number of international Visiting Scholars also rotate through COOR at various stages of research initiatives. These fellows and scholars are either in med school, between med school and residency, or doing post-doctoral training before going into practice. This year, SPRI's International Visiting Scholars come from Norway, Germany, Greece, Japan, Brazil, and Argentina.
The average period of time it takes to complete a clinical application study is 12-18 months, according to Dornan. "One of my goals is to accelerate the process of clinical impact through data modeling and visualization so our physicians can see, process, and act upon data-driven insights."
PREDICTIVE MODELING
"An important tool to accomplish that goal is predictive modeling—uses data mining and probability to forecast outcomes. It is being used throughout medicine, and we want to be a leader in leveraging predictive analytics to help our patients. We have a tremendous advantage because of our database."
One of Grant's responsibilities is to help write scientific papers based on research done at SPRI and COOR. He is the co-author of 40 peer-reviewed articles, a number that could increase to 60 by the end of the year.
A VIEW FROM THE INSIDE
"People on the outside may see only that we have various departments—COOR, BioMedical Engineering, and Regenerative Medicine, for example. What they might not see is that interns and visiting scholars, as well as staff physicians and scientists, work across all of the areas at SPRI. They get and exchange great ideas from each field."
"Our flexibility and freedom makes this a very unique research institution," concludes Dornan. "SPRI fosters the ability to think outside the box and make connections between all the fields that impact a patient's health and care."
Share this Post: