$10 Million Gifts Seed Capital Campaign for Vail Valley Medical Center and Steadman Philippon Research Institute
Dec 29, 2016
Emily Tamberino | emily.tamberino@vvmc.com| (970) 569-7754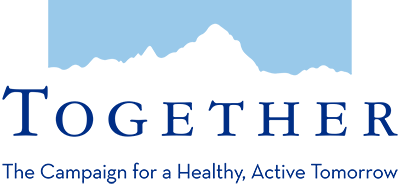 Working Together to Make Vail a Destination Medical Center
Vail, CO – Two benefactors have each made a $10 million gift to kick off the first-ever capital campaign for Vail Valley Medical Center (VVMC) and Steadman Philippon Research Institute (SPRI). The organizations have combined efforts to raise $75 million to renovate and expand the hospital's Vail campus and advance cutting-edge research right here in Eagle County. A total of more than $40 million has been raised toward the campaign goal.
President and CEO Doris Kirchner publicly launched the 5-year campaign, called Together—The Campaign for a Healthy, Active Tomorrow, at the hospital's annual Family Dinner Dance last night. She thanked the Jay Precourt Family Foundation and Mike and Mary Sue Shannon for their lead campaign gifts of $10 million each. Last night was the final Dinner Dance, as VVMC turns its focus to other fundraising initiatives like the campaign.
"For 35 years, the Family Dinner Dance symbolized the community's support of Vail Valley Medical Center," said Kirchner. "As this tradition comes to an end, we look to the future, and last night was the perfect opportunity to officially launch our capital campaign, which will set the course for the next 35 years and beyond."
Mike Shannon, chair of the Vail Health Services Board of Directors addressed Dinner Dance guests, which included some of the hospital's most treasured friends and their families. "The partnership between VVMC and SPRI is groundbreaking," said Shannon. "It brings together excellent clinicians with world-class researchers. This means our community and visitors from around the globe will receive the very best care possible."
Building the "Hospital of Tomorrow"
Once completed, Vail Valley Medical Center's comprehensive remodel and expansion will provide a comfortable, healing environment that enhances patient care. The construction project is being divided into multiple phases to ensure continuity of care through the duration.
Renovation and expansion of the first phase, the west wing, features a 72,000 square foot renovation and expansion and is scheduled for completion this summer. Already, the hospital has opened five new Intensive Care Unit patient rooms, an expanded and updated space for Howard Head Sports Medicine and a new 4 th floor for The Steadman Clinic and Steadman Philippon Research Institute. The new west wing main entrance and lobby and five new Patient Care Unit rooms will open in January, and 10 new, private pre-operative and eight post-operative rooms will open in April.
Upon completion of the west wing, the existing east wing will be replaced with a new 350,000-square-foot structure, which will feature a permanent main entrance and lobby off South Frontage Road, significantly reducing foot and vehicle traffic on West Meadow Drive.
In addition, the east wing expansion includes a multi-level underground parking structure; a larger, state-of- the-art Level III Trauma Center; an expanded imaging department and admissions area; and an on-site helipad to reduce transfer times. The east wing is scheduled for completion in 2020.
Impacting Medical Treatments Worldwide Through SPRI Research
The Together campaign will also support research studies at Steadman Philippon Research Institute (SPRI). In particular, funds will benefit the work of Johnny Huard, PhD, world renowned for his research of adult stem cells as a new standard of care for injury and disease. This research has shown great potential in promoting healing, slowing aging and keeping people active.
Campaign dollars will also fund SPRI's new BioMotion Lab. Directed by Scott Tashman, PhD, a nationally recognized biomotion expert, it is on track to be one of the best biomotion labs in the nation.
In addition, campaign dollars will support SPRI's biomedical engineering research program, imaging technology and the Center for Outcomes-Based Orthopaedic Research. The goal of SPRI's research is to develop less invasive procedures that produce better patient outcomes and quicker recovery times. SPRI Board of Directors Co-chair
Marc Philippon, MD
, said, "The capital campaign will enable us to take our research to the next level and ultimately help improve the quality of life for more people. Pairing the high-quality care of VVMC and SPRI's leading-edge research speaks to how unique we are here and what a destination Vail has become for research and medicine. In this case, one plus one isn't two. One plus one equals four."
About Vail Valley Medical Center
Founded in 1965, VVMC has grown into one of the world's most advanced mountain healthcare systems, providing 24/7 emergency care, Olympic-quality sports medicine, evidence-based research, modern cancer care and extensive cardiology services. An independent, nonprofit medical center, VVMC keeps nearly 900 jobs and resources local, better serving our community and visitors. Providing superior health services with compassion and exceptional outcomes,
VVMC
offers low infection rates, free community services and top-rated patient satisfaction scores.
About Steadman Philippon Research Institute
The Steadman Philippon Research Institute (SPRI) is dedicated to keeping people of all ages physically active through orthopaedic research and education in arthritis, healing, rehabilitation and injury prevention. We utilize the latest regenerative medicine techniques – biological studies at the cellular level – to investigate the causes and effects of degenerative arthritis, techniques of musculoskeletal regeneration, and basic biological healing processes. Founded in 1988 by orthopaedic surgeon
Dr. Richard Steadman
as the Steadman Sports Medicine Foundation, the 501(c)(3) charitable organizationhas influenced the practice of orthopaedics throughout the world. Based in Vail, Colo., it has become one of the most published organizations in sports medicine research and education.
Share this Post: