Dr. Johnny Huard named Chief Scientific Officer of Steadman Philippon Research Institute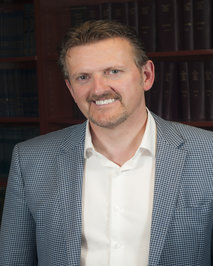 Highly acclaimed leader in the field of stem cell research joins SPRI
VAIL, Colo. – Johnny Huard, PhD, former Vice Chair for Musculoskeletal Cellular Therapeutics, Department of Orthopedic Surgery, Director of the Stem Cell Research Center, and Deputy Director of Cellular Therapeutics Research at the McGowan Institute for Regenerative Medicine at the University of Pittsburgh, has been named Chief Scientific Officer of the Steadman Philippon Research Institute (SPRI) and Director of SPRI's Center for Regenerative Sports Medicine (CRSM).
Huard, 49, is internationally recognized for his leading edge research in the field of stem cells and regenerative medicine as it relates to the musculoskeletal system. In his new position at SPRI, Huard will be establishing a regenerative and translational medicine institute in Vail, Colo.
Huard has spent the past 19-plus years at the University of Pittsburgh where he served as the Henry J. Mankin Professor in the Department of Orthopaedic Surgery and Director of the Stem Cell Research Center. He has extensive knowledge in the areas of gene therapy, tissue engineering and regenerative medicine applications based on the use of muscle-derived stem cells (MDSCs).
In addition to significant international recognition in the form of major awards received from organizations in the field of orthopaedic medicine, Huard has received generous grants and other forms of financial support, including funding from The National Institutes of Health, the Department of Defense and the Muscular Dystrophy Association, as well as other private and public foundations.
"The opportunity to accelerate our pioneering advances in regenerative sports medicine and stem cell research with Dr. Huard as our Chief Scientific Officer is enormous," said Dr. Marc Philippon, Managing Partner of The Steadman Clinic and Co-Chairman of SPRI. "In the future, our team of physicians and researchers envision every person having the opportunity to harvest his or her own stem cells re-injected into the body to help delay various aging processes such as osteoporosis or osteoarthritis or to speed up recovery from injury or illness."
"Dr. Huard's work in regenerative medicine has been recognized world-wide and his research and contributions in this area of study will represent another important milestone in our efforts to keep people active," said Dan Drawbaugh, CEO of The Steadman Clinic and SPRI. "In his new role, Dr. Huard will focus on regenerative medicine and lead the conversion of his research into orthopaedic treatments at The Steadman Clinic. The ability to collaborate with The Steadman Clinic will mean that Dr. Huard can test his premise that transplanting autologous stem cells will help delay the degeneration of joints."
"Dr. Steadman, who was finding ways to treat sports injuries through regenerative methods 25-years ago, laid the groundwork for those that followed him – including Dr. Philippon, who has made tremendous advances in the field of hip surgery," said Huard. "We have the opportunity to discover ways to further delay joint replacements and help patients at The Steadman Clinic recover faster and stronger. I'm grateful for all of the work that Dr. Steadman, Dr. Philippon and their team have done over the years and look forward to working with them."
If musculoskeletal disease is slowed or if injuries are successfully repaired and rehabilitated, people can remain active longer, reducing the risk of conditions associated with inactivity including cardiovascular disease, high blood pressure, obesity, diabetes, osteoporosis, certain cancers, and depression. SPRI's and TSC's efforts to keep people active have already resulted – and will continue to result – in significant savings in healthcare costs over a person's lifetime.
CONTACT: Lynda Sampson | lsampson@sprivail.org | 970-479-1563
About Dr. Johnny Huard:
Huard, a native of Quebec, Canada, first joined the University of Pittsburgh faculty in 1996 as an assistant professor. He strengthened his focus on regenerative medicine in 2001 when he was named the Deputy Director, Cellular Therapeutic Research for the McGowan Institute for Regenerative Medicine at UP. Huard became a full-time professor in 2004 and added the title of Vice Chair of Musculoskeletal Cellular Therapeutics, Department of Orthopedic Surgery. Three years later, he was also named the Director of the Stem Cell Research Center at UP. Huard earned his Bachelor's degree in Biology from Rimouski University U.Q. A. R., Quebec, Canada in 1988. He received his M.S. degree in neurobiology from Laval University in Quebec in 1991 and was awarded his Ph.D. in neurobiology from Laval in 1993.
Share this Post: