Dr. Johnny Huard Reflects on the Success of the Vail Scientific Summit and Its Growth Through the First Seven Years of the Annual Event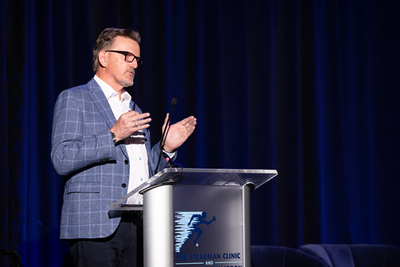 Dr. Huard makes special mention of the speakers, the sponsors, the philanthropists and, of course, the science that brings a world-class group together each August in Vail
VAIL, Colorado – Johnny Huard, PhD, joined Steadman Philippon Research Institute (SPRI) in the spring of 2015 as chief scientific officer. Just three months after his arrival, with the encouragement and backing of SPRI Chair Dr. Marc Philippon and Dan Drawbaugh, CEO of The Steadman Clinic and SPRI, Dr. Huard organized the very first Vail Scientific Summit. The success of that first meeting led to another one. And yet another one. This August, Dr. Huard and his team put on their seventh annual Vail Scientific Summit, which in the eyes of many observers was the best yet.
"I think we have created something very special," said Dr. Huard during this year's conference. "We started rather small in our first year, but it wasn't long before we outgrew the first meeting site and had to move to a bigger venue. The support from our sponsors and our local community here in Vail has been terrific and has made it all possible."
Not only has the size of the Summit itself gotten bigger, but the breadth and the depth of the topics presented for discussion has grown as well.
"What I'm very interested in now is that we're moving outside of sports medicine, regenerative medicine and translational medicine at these meetings," noted Dr. Huard. "Now we have a session dedicated to the study of cancer, which is so prevalent and affects almost everyone in one way or another. We started the first session on cancer last year, and now the interest has grown so much that not only have we repeated it this year, but we're thinking about starting a program with our colleagues at the Shaw Cancer Center here in Vail."
Dr. Huard is excited that the science being discussed at the Summit is not just setting the table for future improvements in medicine but is already being used for major accomplishments today.
"I just want to say that the science you're seeing here this week is being utilized today to make major breakthroughs in treatment," said Dr. Huard. "What you saw from that great keynote address from (Dr.) Sam Stupp was fascinating. He and his team are finding ways to help people recover after a spinal cord injury, something that doctors and scientists have been striving to do for many, many years. And now it is happening and much of that is due to basic science research and many hours in the lab. Sam is sharing the story of that success with all of us and it inspires us to continue our efforts in our own research for other scientific and medical breakthroughs."
There were a lot of new faces at the podium this year and that was by design.
"I have a lot of friends in this field and many of them have spoken here at The Vail Scientific Summit on more than one occasion," said Dr. Huard. "They are terrific speakers and share a great message. I am so happy that many of them want to come back and speak every year. I know that our conference needs to continue to branch out and present topics from other areas of science and medicine, so I'm also working to bring in new people.
"This year we had some of the leading researchers in neurodegeneration. We also had a speaker like (Dr.) Micky Collins from UPMC (University of Pittsburgh Medical Center) that has one of the biggest concussion programs and neurodegeneration programs in the country. I'm really excited about this because now we are blossoming and are opening up discussions here about a new area of research."
The new faces and voices among the presenters in 2022 also included special guests from the United States Navy.
"We have an official from the Navy (Rear Adm. Bruce Gillingham, M.D. and also the Surgeon General of the Navy) who came here this year, and that speaks volumes about the quality of our science," added Dr. Huard. "A lot of our Department of Defense-funded clinical trials are funded specifically by the Navy. We have a wonderful working relationship with them here at SPRI and The Steadman Clinic. So clearly having him and some of his colleagues take time out of their busy schedules to come here and speak to us says a lot about the importance of our meeting. I want to stress that what we're doing here for orthopaedics and for sports medicine is directly applicable to the military services. This is why they are here not only supporting us, but also telling the public that this is a type of research activity that they want to sponsor in the future."
Not only did the podium see new faces this year, but also many younger faces.
"This is the future for us," said Dr. Huard. "We need to bring the young scientists here to our meeting and hear what they have been researching and learning in their labs. They are trained by us, and they are the ones that are not only going to continue our work in research but also explore and develop new techniques and create better ways to keep people healthy and happy. I have enjoyed listening to their presentations and look forward to inviting more of the young scientists to speak to us at future meetings."
With all the improvement and growth of the Vail Scientific Summit in its first seven years, Dr. Huard knows that it can't continue to move forward without one special group of interested people.
"I have always said that the philanthropists are the key to our work because they initiate the projects by giving seed dollars. Their donations get these successful projects off the ground and then many times we are able to secure grants and federal funding from sources such as the NIH (National Institutes of Health) and the Department of Defense. Just this morning I received a call from someone who said that they wanted to make a gift, but they wanted that gift to go to an existing study that was ongoing. Matching the federal dollars with the philanthropy dollars is really something that people like to do. This is part of the success we're highlighting each and every day here at SPRI. It's why we love to do what we do and why we invite so many people to come to Vail each summer and share their success stories with us."
For further information, contact Lynda Sampson, VP External Affairs (lsampson@sprivail.org, 970/479-1563)
Share this Post: