Dr. Lauren Watkins Explains the Benefits of SPRI's Relationship with Canon Medical Systems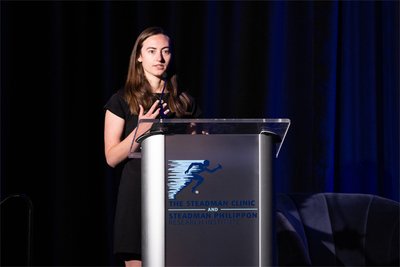 Canon's loan of new, high-tech imaging equipment enabled Dr. Watkins and staff to enhance their research on rotator cuff injuries
VAIL, Colorado – Lauren Watkins, PhD, completed her doctorate at Stanford University and joined Steadman Philippon Research Institute (SPRI) a little over a year ago. As an undergraduate student, Dr. Watkins pursued a degree in biomedical engineering at Purdue University, where her classes often took her to the lab. While she was interested in research, she did not know that a role like her position at SPRI existed as an undergraduate student.
"I had a mentor in my research program that encouraged me to continue with research and pursue a master's degree," said Dr. Watkins. "She was just a fantastic mentor and showed me the career possibilities that were ahead of me in research. She set a great example of entrepreneurship, research, education and mentorship that steered me in this direction. She demonstrated how I could do the work that I was interested in and still have the work-life balance I was seeking. I ended up continuing on to pursue a doctorate degree and was again fortunate to find incredible mentors who were supportive of both my research and life goals."
Prior to receiving this life-changing mentorship, Dr. Watkins had a feeling that her post-college career would take a slightly different direction than she initially planned.
"When I was an undergrad, I didn't have a clear idea of what my ideal career looked like," said Dr. Watkins. "I knew I wanted to do something that helped people. But I think over time, I realized that there were options besides being a professor at a university. I could work in a space like what I now have here at SPRI. It gives me the opportunity to clinically translate some of my work and enables me to see the impact of that so much faster than what I might see in a traditional academic setting."
That impactful work has taken a major turn recently as Dr. Watkins—utilizing a state-of-the-art ultrasound imaging machine courtesy of Canon Medical Systems—has delved into research on injuries to the rotator cuff.
"I've recently been exploring the use of ultrasound to look at the rotator cuff, both in torn rotator cuffs and in the repair procedures," said Dr. Watkins. "We were fortunate to receive a new ultrasound system on loan from Canon for six months to allow us to explore this space and see what we could learn in regard to rotator cuff injuries.
"We used a few different ultrasound techniques, including a microvascular technique and a shear wave technique, to look at changes in blood flow to the shoulder after injury and how that improves after repair procedures," continued Dr. Watkins. "We also looked at the stiffness of the muscle and how that might be related to the success of a repair procedure."
This was just one of numerous projects that were enhanced thanks to the generosity of Canon Medical Systems and the use of its latest line of imaging equipment.
"This collaboration with Canon allowed me to explore a whole new area of medical imaging," added Dr. Watkins. "A lot of my background had been in MRI and PET (positron emission tomography) imaging, and this opened up the doors to evaluate ultrasound and see what role it can play in musculoskeletal injuries and treatments. It isn't a technique that's used very often clinically, as we usually rely on MRIs to look at soft tissues. Ultrasound is a little bit faster, more cost effective and really well tolerated by patients. The new techniques we explored with this machine give us much more information than what we've been able to get with ultrasound in the past. We're excited to see how we might increase its use in the clinic in the future."
The value of relationships with sponsors, vendors and business partners was evident in this exchange with Canon Medical Systems.
"We are very aware that medical imaging is quite expensive," continued Dr. Watkins. "So having access to some of these new technologies and new systems at no upfront cost allows us to start seed projects and explore new areas of research without investing a whole lot of resources.
"Based on some of this research on rotator cuff injuries," summarized Dr. Watkins, "we will go on to publish some abstracts and papers, using that pilot data in support of bigger projects to explore these kinds of injuries in more depth."
Dr. Watkins was honored to present her latest work at SPRI at the Vail Scientific Summit and gained some new knowledge and collaborations along the way.
"I think one of the strengths of the Vail Scientific Summit is just the variety of disciplines that are represented here," said Dr. Watkins. "It's a really amazing collection of scientists that have come here to share their work. You can learn a lot from areas outside of your own training."
When the Summit organizers invited Dr. Watkins to be one of the speakers, she eagerly accepted.
"Being asked to share my work and be on stage with clinician-scientists like Dr. (Marc) Philippon (The Steadman Clinic and SPRI) and Dr. (Constance) Chu (Stanford) and other great names in the field was such an honor," concluded Dr. Watkins. "Knowing that I was sharing my work with scientists and doctors who could then take it and implement it in their practice was a great moment."
For further information, contact Lynda Sampson, VP External Affairs (lsampson@sprivail.org, 970/479-1563)
Share this Post: