Dr. Robert LaPrade honored with the Cabaud Memorial Award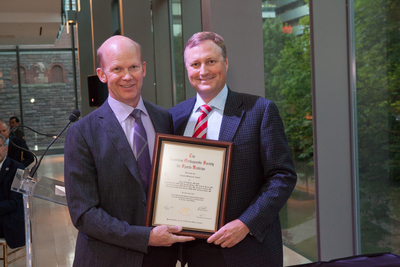 The 2017 American Orthopedic Society for Sports Medicine annual meeting kicked off July 19 with a special invitation-only dinner at the Royal Conservatory of Music in Toronto, Ontario. The Steadman Clinic's and Steadman Philippon Research Institute's Dr. Robert LaPrade received the prestigious Cabaud Memorial Award in recognition of his leadership in the field of orthopedic research and his work into studying the effects of PRP on MCL healing. Dr. LaPrade was presented the award by The Steadman Clinic's Dr. Matthew Provencher, a colleague and long-time friend. "It's an honor. I'm humbled because it is so competitive. To have Dr. Provencher, who is one of my best friends in orthopedics, present me the award was a unique moment I won't forget." Dr. Provencher echoed that sentiment: "As the chair of the research committee, one of the highlights has been presenting Dr. LaPrade with such an honor."
The AOSSM brings together doctors, researchers and international scholars from all over the world for this four-day conference, this year held at the Metro Toronto Convention Centre. A perfect place for networking and reconnecting with old friends and colleagues, the spirit is that of collaboration and connection. "There is camaraderie here, a mutual respect and high caliber of talent that walk through those doors," said Dr. Provencher. "It's important to be here because we bring together the latest in research, techniques and review what works best to support and help our patients. At the end of the day, improving patient care is at the crux of all of this." Added Dr. LaPrade: "This is the biggest and most scientific gathering of sports medicine scientists and surgeons in the world. It is important for us to be here and represent The Steadman Clinic and SPRI as leaders in orthopedic medicine and research." And what has Dr. LaPrade found to be significant this year? "As past-chair of the AOSSM research committee, I'm proud to see that the work being done in biologics and early sports specialization in youth which were the major initiatives during my tenure is being pushed to the forefront."
Share this Post: