Dr. Sandeep Mannava - Naproxen's Affect on Platelet-Rich-Plasma Therapy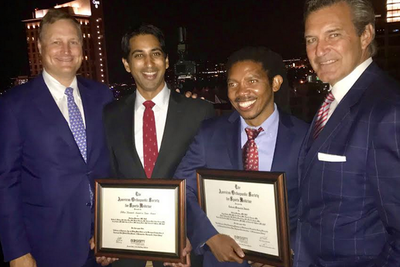 Dr. Sandeep Mannava, a 2016–17 Steadman Clinic fellow, received the 2018 Fellow Research Award for Basic Science during the 2018 American Orthopaedic Society for Sports Medicine's annual conference in San Diego held July 5–8, 2018. Dr. Mannava presented his work: "Influence of Naproxen, Age and Body Mass Index on the Biological Composition of Leukocyte Rich Platelet-Rich Plasma: A Prospective, Therapeutic, Cohort Study" during the conference on Saturday, July 7th to share his findings. "This was a collaborative project. Because we have both the clinic and the research institute under one roof, it makes for a great opportunity to ask clinically relevant questions and then answer them using modern molecular and stem cell research," he said.
His research looked at how drugs like Aleve or Motrin affect platelet-rich plasma (PRP) and growth factor potential. Meaning, how long would a patient need to be off of these types of medications for PRP therapies to sufficiently work? "We are asked this question every day by patients who are looking to ease their pain with PRP therapies. We want to give them the best shot possible, so we had to create a test to see how to make these treatments the most effective." The team found that one week was enough time in between taking a drug like Aleve and starting PRP therapy to see results. Because of this work, people like SPRI's Chief Scientific Officer Dr. Johnny Huard are now rethinking who is best suited for PRP therapy.
Dr. Mannava was also quick to acknowledge that it takes a team to produce this high-level research. Grant Dornan, SPRI's director of the Center for Outcomes-Based Orthopaedic Research (COOR) was instrumental in helping Dr. Mannava with the data collected. "It was fun to be a part of this," said Dornan. "This study was an excellent example of teamwork between several groups within SPRI and The Steadman Clinic. A clever study design was developed by all members of this diverse team to best address a simple but highly clinically relevant question. Everything from the dosage, time frame, volunteer enrollment statistical planning and analysis had to align to provide strong evidence in answering this question."
"This research couldn't have been done anywhere else," said Dr. Mannava. "Where else would you have powerhouses like Dr. Thos Evans, Dr. Robert LaPrade and Dr. Johnny Huard all in the same place?" Following his fellowship at The Steadman Clinic and SPRI, Dr. Mannava is now working in Rochester, NY and continuing his research. "There is just so much more to learn, so much more to discover. It is a great time to be in this field of sports medicine."
Share this Post: