Five Questions with Anna-Laura Nelson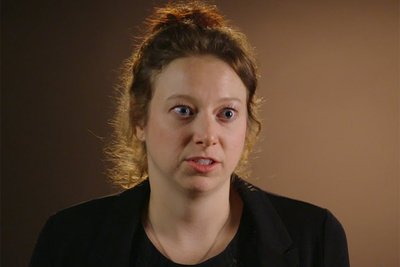 Anna-Laura Nelson is a PhD student working on a collaborative project with Steadman Philippon Research Institute (SPRI) and Colorado State University. She works under the co-mentorship of SPRI's Dr. Chelsea Bahney and CSU's Dr. Nicole Ehrhart, with SPRI's Chief Scientific Officer, Dr. Johnny Huard chairing her thesis committee.


Tell us about your background. How did you develop an interest in pursuing medical research?
"I got into research a little bit late in the game. Right after college (Furman University in Greenville, S.C.) I was a little confused and didn't know where I wanted to take my career. I started as a medical assistant at an orthopaedic surgeon's office in Atlanta. I quickly realized that I wanted to do more behind-the-scenes work. I was really fascinated with the types of technologies they were using in orthopaedics. From there I applied to get my Master of Science in biomedical engineering. That took me to the University of Colorado Denver. After completing my master's degree, I worked in tissue engineering fields and medical supply companies in the Denver area."
How did you first connect with SPRI? And how did this PhD project unfold?
"It was actually through some good old-fashioned networking. My last job was at a tissue bank in Centennial, Colo. I had met Dr. Sudheer Ravuri (Deputy Director of the Center for Regenerative Sports Medicine at SPRI) through one of the conferences we attended. I just really loved the work everyone was doing at SPRI so I pursued the opportunity to do research in the SPRI laboratory.
"I'll be the first PhD student to collaborate with both CSU and SPRI. I will have one mentor at CSU (Dr. Ehrhart) and one at SPRI (Dr. Bahney). CSU and SPRI have so much to offer each other. CSU has been known for its preclinical models. SPRI, of course, is highly translational science. We both have a lot to share with one another. At SPRI, we can utilize CSU's preclinical models to make our science more translatable. Of course, that is something that is imperative to what SPRI does."
Tell us about your history with Dr. Ehrhart and Dr.Bahney. Have you worked with them before?
"I've actually known Dr. Ehrhart for a few years. She was a collaborator at the tissue bank where I formerly worked. And I worked here at SPRI in the last year as a lab assistant under Dr. Bahney. The way we envison the PhD project progressing is that I'll be doing the bench research at SPRI and the preclinical model work at CSU. The project we developed capitalizes on the unique strengths of both mentors and a shared interest in developing tissue engineering strategies to accelerate fracture repair in the elderly population, which has a high incidence of fractures with poor outcomes. I think it's going to be a really beautiful collaboration for both sides and the cross-disciplinary nature of the project will create a high level of innovation."
How can doctoral students have an impact working in the labs of institutions like SPRI and CSU?
"PhD students typically have prior laboratory experience and are very self motivated. To graduate they must develop an interesting, unique question that has never been tested before and then design experiments to successfully find the answer to this question. Consequently, PhD students often bring creativity and new direction into a laboratory. Further, part of the training for a PhD is to write scientific manuscripts and grants, these are fundamentally important in supporting research and the productivity of a laboratory."
"In addition to providing a PhD student, this collaboration with CSU brings light to the opportunity to share resources and tools and help each other with a variety of research projects. There are different tools and machines in both the labs in Vail and in Fort Collins. This partnership provides a unique sharing of resources for SPRI and CSU."
Was funding in place for your PhD project? How did SPRI and CSU put it together for you?
"I actually applied to CSU separately from my networking with SPRI. In my work with both Dr. Bahney and Dr. Ehrhart, we were thinking about this collaboration and how we could make it happen. The PhD world is a very interesting environment. You really have to follow where the funding goes. That means that principal investigators at universities must find grant money to fund the work of PhD students. It has worked extremely well for me that SPRI was very much on board with this project. Dr. Johnny Huard (Chief Scientific Officer at SPRI) was a huge proponent and influence in creating this project as well.
"It worked out beautifully and I am so grateful and fortunate to be working with such fantastic scientists. Chelsea and Nicole have been phenomenal mentors to me."
For further information or other inquiries about The Steadman Clinic or Steadman Philippon Research Institute, contact Lynda Sampson, Vice President of External Affairs (
lsampson@sprivail.org
).
Share this Post: