Gary Peterson named CEO of The Steadman Clinic and Steadman Philippon Research Institute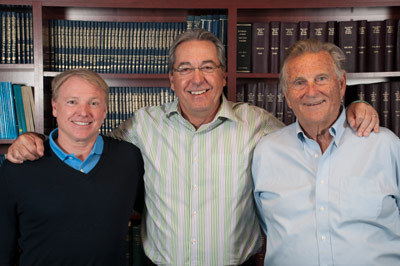 Gary Peterson named CEO of The Steadman Clinic and Steadman Philippon Research Institute
Highly respected leader in both the medical device and health services fields slated to direct operations at both Vail institutions
VAIL, Colo. – June 9, 2014 – Gary A. Peterson, a veteran of more than 40 years in the medical device, health services and finance industries, has been named Chief Executive Officer of both The Steadman Clinic (TSC) and the Steadman Philippon Research Institute (SPRI), effective immediately. The announcement was made today by Dr. Marc Philippon, Managing Director of TSC and Co-Chairman of SPRI.
"Every enterprise Gary has been associated with has improved and grown under his watch," Philippon said. "His business skills and leadership experience in the medical field will help us continue to grow and reach our goals at both The Steadman Clinic and on the research front at SPRI."
Peterson, 62, brings a wealth of experience in medical and healthcare leadership to TSC and SPRI. Since 1986, he has directed the business operations of numerous medical device and healthcare consulting companies around the United States. Most recently, Peterson has served as the managing member of Baton Capital LLC, a group of healthcare and financial experts with over $1 billion in loan capability for medical equipment leasing and financial solutions for hospitals, physicians and medical equipment manufacturers.
"I am honored to have the opportunity to join the management team at The Steadman Clinic and SPRI," Peterson said. "Beginning with the pioneering work of Dr. Steadman and continuing today as a US Olympic National Medical Center, both The Steadman Clinic and SPRI are respected around the world as leaders in the areas of emerging treatment and surgery. I look forward to working closely with the superbly talented and respected surgeons and researchers at The Steadman Clinic and SPRI."
In 1983, Peterson co-founded Angiomedics, Inc., an angiographic catheter company that also became a pioneering company in angioplasty and stent technologies. After taking the company public in 1984, Peterson helped establish a strong product supply agreement with Pfizer, Inc., which led to Pfizer acquiring Angiomedics in 1986.
Peterson began his career by successfully maneuvering through the growing medical device field in the sales, management, design and development of products related to kidney dialysis, cardiac pacemakers and interventional cardiology and radiology.
Peterson graduated with a bachelor's degree in biology and distributive sciences from Gustavus Adolphus College in St. Peter, Minn., in 1973. He completed the Executive Marketing Management Program at Columbia University in New York in 1980.
About The Steadman Clinic:
The Steadman Clinic is a world-renowned orthopaedic clinic with facilities located in Vail, Frisco, and Edwards Colorado. Specializing in sports medicine including knee, hip, shoulder, elbow, hand, spine, foot and ankle injuries, our experience and research have led to significant advances in the fields of orthopaedics and sports medicine.
http://www.thesteadmanclinic.com
About The Steadman Philippon Research Institute:
The Steadman Philippon Research Institute (SPRI) is dedicated to keeping people of all ages physically active through orthopaedic research and education in arthritis, healing, rehabilitation, and injury prevention. Founded in 1988 by orthopaedic surgeon Dr. Richard Steadman as the Steadman Sports Medicine Foundation, the 501(c)(3) charitable organization has significantly influenced the practice of orthopaedics throughout the world. Based in Vail, Colorado, SPRI is a global leader in sports medicine research and education.
http://sprivail.live.emedicalmedia.info
Contact: Lynda Sampson
Share this Post: