Injury Prevention Symposium, Day 1, Session 3 Recap: Clinical Perspectives in Injury Prevention April 28, 2021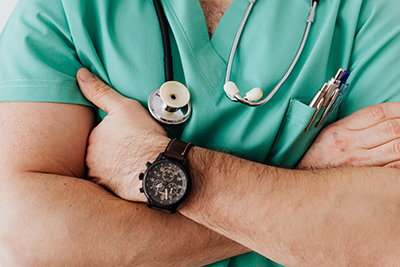 COLORADO SPRINGS, Colo. – The 5th Annual Injury Prevention Symposium, a partnership between Steadman Philippon Research Institute (SPRI) and the U.S. Olympic & Paralympic Committee (USOPC), opened its two-day virtual proceedings on Wednesday.
The afternoon's third session concentrated on clinical perspectives in injury prevention and featured four noted speakers from The Steadman Clinic, Steadman Philippon Research Institute (SPRI) and University of Utah.
Marc J. Philippon, MD, managing partner of The Steadman Clinic and co-chair of SPRI opened the session with a presentation focused on hip screening and how to identify the "hip at risk."
Dr. Philippon is a world-renowned hip specialist and has dedicated years of practice to improving and mastering surgical techniques to repair and rehabilitate hip injuries and return the patient to his or her normal activity as quickly as possible, whether it be on a professional ice rink, basketball court, football field, ballet stage or at a neighborhood club playing tennis with friends.
Femoroacetabular impingement (FAI) is one of the leading causes of hip injuries. While prevention is difficult, Dr. Philippon and others have found methods to predict what sports and activities have the greatest probability of increasing FAI risk in participants.
"Certain sports certainly tend to be more 'hip at risk," noted Dr. Philippon. "Ice hockey, golf, baseball, ballet and martial arts, along with many others, require activities, body motions and hip forces that are more likely to lead to hip issues.
"There is a detectable early stage in these types of injuries and early detection is optimal," continued Dr. Philippon. "Unfortunately, untreated hip problems early on in an athlete's career will likely lead to osteoarthritis and other issues as people grow older."
Dr. Philippon noted that there are several ongoing hip screening studies in elite youth hockey leagues and professional ballet companies in an effort to identify "at risk" hips earlier and utilize treatment and modified training techniques to reduce the chance for future injuries.
"With hopes of early detection, asymptomatic screening is a key element in identifying the 'at-risk' hip," said Dr. Philippon. "And by doing that, we have a better chance of preventing or reducing the chances for future hip problems."
Travis Maak, MD, associate professor in the department of orthopaedic surgery at University of Utah, followed Dr. Philippon and continued the discussion on FAI.
Dr. Maak focused on the shape of the hip and the physical attributes that may lead to the development of FAI problems for athletes and physically active individuals.
"Our goal with our studies is to quantify the relationship between hip shape and hip function to reduce the prevalence of chronic hip pain in the young adult athlete," said Dr. Maak.
With that in mind, Dr. Maak has envisioned a "Holy Grail" of hip treatment.
"Our hope is to develop athlete and sport-specific activity modification and training regimens to reduce and/or eliminate symptoms and injuries," said Dr. Maak.
Johnny Huard, PhD, chief scientific officer and director of the Center for Regenerative Sports Medicine at SPRI, followed Dr. Maak and presented the approach to injury recovery from a non-surgeon's point of view.
Dr. Huard's talk focused on SPRI's regenerative and translational medicine program and how the use of biologics can greatly aid in the treatment of sports injuries and shorten the rehabilitation process.
"Improving orthobiologic treatments through the use of off-label drugs and natural supplements is one of the more common methods of helping ease and hopefully prevent the pain and discomfort of these injuries," said Dr. Huard. Like Dr. Philippon noted earlier, Dr. Huard cited osteoarthritis (OA) as one of the leading problems that results from hip and other joint issues.
"OA is a widespread, debilitating disease," said Dr. Huard. "We are working hard in our laboratories to develop injury prevention interventions that will potentially reduce osteoarthritis. We are developing orthoiologic treatments for knee injuries to reduce the incidence of OA. Of course, aging is one of the key causes of OA and that is another avenue for our scientists to explore as we search for new treatments."
Dr. Leslie Vidal, MD, an orthopaedic surgeon specializing in sports medicine at The Steadman Clinic, closed out the session with further discussion on the etiology of hip injuries and the pursuit of methods to both better treat and prevent hip problems from occurring.
Dr. Vidal noted three leading causes of hip injury: age, gender differences and repetitive usage. While age and gender differences (which lead to more susceptibility for certain hip injuries) can't be altered, Dr. Vidal notes that early detection can help athletes modify their motions and training to help reduce the future problems of over usage.
"Early detection and intervention in the form of hip arthroscopy is crucial to prevent degenerative changes, early onset arthritis and decreased functional activity," said Dr. Vidal.
"We can now tailor sport-specific rehab protocols," continued Dr. Vidal, "and devise tests that must be passed before a recovering athlete returns to his or her sport."
Armed with better knowledge at a young age, athletes have a much better chance of playing their sport and not starting a path to future pain and suffering due to overuse of their body in their formative years.
"It's important that we find ways to keep our young athletes healthy and productive and on track to excel in their sports in future years," said Dr. Vidal.
Share this Post: