Injury Prevention Symposium, Day 2, Final Session Recap: Olympic Athlete Presentations April 29, 2021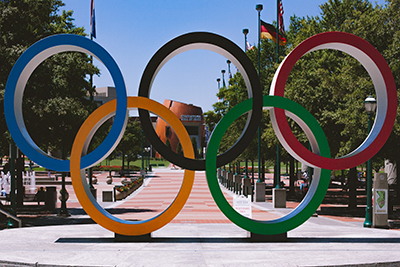 COLORADO SPRINGS, Colo. – The 5th Annual Injury Prevention Symposium, a partnership between Steadman Philippon Research Institute (SPRI) and the U.S. Olympic & Paralympic Committee (USOPC), concluded its two-day virtual proceedings on Thursday with presentations by United States Olympic athletes Kara Winger and Laurenne Ross.
The symposium's final session focused on the journeys these two women endured through injuries, multiple surgeries, rehabilitations and Olympic and international success in their chosen sports.
Both Winger—the American record holder in the women's javelin throw and a three-time Olympian—and Ross—a two-time Olympic downhill ski racer—fashioned outstanding, elite careers in their respective sports despite battling and recovering from many major injuries suffered along the way.
For each of them, the mental and personal side of the recovery process was equally, if not more, responsible for their recovery and ultimate success on the field and on the mountain.
"Attitude matters in rehab when you're going through the healing process," said Winger, who recovered from major back, knee and shoulder surgeries before competing in both her second and third Olympic Games in 2012 in London and 2016 in Rio. "Choosing the right people makes all the difference in recovering from injury."
"You can't really separate the physical and mental body," said Ross. "They are so connected. As an athlete your body is your temple," continued Ross. "Your job is to take care of your body, to learn to rest, to recover, to know what pain feels like, what instability feels like."
Both Winger and Ross were multiple-sport athletes as children and knew that sports would be integral parts of their lives.
"Growing up I played all of the sports—basketball, softball, soccer, T-ball, volleyball," said Winger, now 35. "Team sports were great because we moved a lot while I was growing up and that's how I made my friends. But after a while I got really sick of some of the drama of teenage girls. Once I tried swimming and found out that individual sports meant I could put effort in and see results from it, I was hooked. Then I tried throwing the javelin as a freshman in high school and I have been hooked ever since."
Winger's success throwing the javelin took her through high school in Washington, college at Purdue and then national, international and Olympic success. But there were many injuries along the way.
Her first real exposure to physical therapy came while studying and competing at Purdue during her rehabilitation from a stress fracture in her back. She learned to appreciate the rehab process and was interested in how it all worked. That paid off down the road as she endured many more periods of physical rehabilitation.
She suffered her first ACL injury at the 2012 Olympic Trials but still managed to compete in the Olympics in London thanks to great work with her PT staff—both her own and the U.S. Olympic Training staff. During more rehab following the Games, she also started graduate school to give her life some mental balance during that time.
Ross, 32, started her skiing career almost before she took her first steps.
"I started skiing when I was about two years old in Alberta, Canada, where I was born," said Ross. "My dad put me on skis basically when I could walk, and from the very beginning I just wanted to go as fast as I could.
"As you grow older, you learn that there are limits to the sport and limits to the body," said Ross. "I started learning that when I made the U.S. Ski team as a teenager in 2006."
"I was also super into other sports as a kid," continued Ross. "But gymnastics taught me about work ethic and resilience and mental strength. I really attribute my success in skiing to my body awareness and those aspects I brought over from gymnastics."
Ross' first major injuries from a ski crash in December of 2006 made her realize that ski racing is an inherently dangerous sport and her recovery "began my long journey through injury and the journey through self-discovery."
She learned how to help fix her own body problems because she learned to listen to her body. And she formed a very special team that included medical staff, trainers, teammates, family members and—most importantly—herself, to help navigate her way through all of her recoveries.
"The most important part of that team truly is yourself," said Ross. "I don't think that you can go through a good recovery successfully without commitment from yourself. That was something that my team actually helped teach me. They taught me that you are your own best PT."
Winger is currently rehabbing from another injury and looking forward to competing again in a future Olympic Games. Ross recently announced her retirement from ski racing following a farewell victory in Colorado this winter. Both Olympic athletes, though, have eyes on what their post-competitive lives will look like, thanks to lessons they learned as athletes who have battled through injury and rehabilitation.
"Rehab exercises will always be my tools for life," said Winger, "even in the gym long after my javelin-throwing career is over. I know they will always keep my body together for life even after all these surgeries and lengthy rehab experiences."
"One of the best parts of being an athlete is learning how to listen to and understand your body and how to take care of it because that is something I will carry with me for the rest of my life," said Ross. "I know that these injuries and recoveries have really prepped me for what comes next in my life."
Share this Post: