Injury Prevention Symposium, Day 2, Session 4 Recap: 5th Annual Injury Prevention Symposium Addresses New Perspectives in Concussion Research April 29, 2021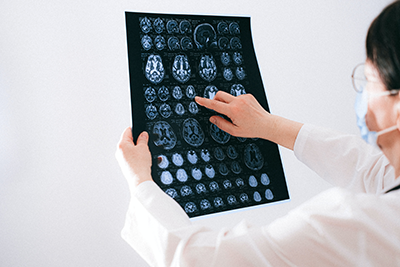 The 5th Annual Injury Prevention Symposium, a partnership between Steadman Philippon Research Institute (SPRI) and the U.S. Olympic & Paralympic Committee (USOPC) started the second day of the two-day event with a panel on concussion research. Due to concerns from COVID-19, the event was held virtually again this year.

Christine Baugh, PhD, MPH, of the University of Colorado Anschutz Medical Campus spoke first. Her talk, "Risk Perception, Social Norms, and Concussion," focused on risk mitigation and concussion.

"There has been a lot of research, including my own, saying it's the individual athlete's responsibility to disclose an injury to a sports medicine provider," said Baugh. "But there are a lot of things we can think of upstream of the injury occurring, including things that institutions and institutional actors should consider as perhaps more important, more effective and more wide-reaching than focusing on the individual athlete."

Baugh says many factors may encourage or discourage an athlete from being honest about symptoms, so reducing the risk of concussion is more important. She explained some of what she found in her study.

"In this study of college sports medicine groups, we looked at the ways in which these colleges staff their sports medicine departments," said Baugh. "We compared the numbers and types of clinicians who were on staff as a ratio with the athletes at the school. What we found was that the number and types of clinicians on staff were related to the rates and types of injuries sustained by their athletes. The fewer patients a clinician had to care for the better the rate of injury at that institution.

"These institutional factors can not only help us reduce the risk of concussion, but they can also help reduce the risk of injury more broadly across all athletes that fall under that institution's umbrella."

The second panelist was Julie Wilson, MD, FAAP, CAQSM, from Children's Hospital Colorado and an Assistant Professor of Orthopedics at the University of Colorado School of Medicine. Her topic was preventing prolonged recovery in pediatric concussion.

Wilson started by sharing that up to 12% of high school athletes will sustain a concussion in a single competitive season depending on their sport. It's also estimated that one to two million concussions occur each year in children under 18.

The focus of her study is the group of concussed children who took longer to recover. Some of the reasons included continued participation in the sport after the injury, prior concussions, history of migraines, balance problems, fatigue, contact versus non-contact injury and others. Some good news—optimizing sleep and exercise made a real difference in recovery.

"Preventing prolonged recovery really starts on the field on the sidelines," said Wilson. "We need to encourage honest and accurate recording of concussion symptoms, and immediately remove athletes from play after they've sustained a concussion. Furthermore, we should help facilitate prompt medical evaluation for athletes, so they can begin their care and recovery as soon as possible."

Wilson also suggested a course of physical therapy and if necessary, to refer patients who are at high risk of persistent post-concussive symptoms to a specialty concussion program.
Share this Post: