Injury Prevention Symposium, Day 2, Session 5 Recap: 5th Annual Injury Prevention Symposium Session Five: Speakers Focus on Implementation and Evaluation of Injury Prevention Programs April 29, 2021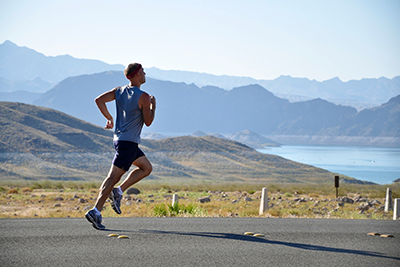 The 5th Annual Injury Prevention Symposium, a partnership between Steadman Philippon Research Institute (SPRI) and the U.S. Olympic & Paralympic Committee (USOPC) continued today. The second session of the day featured three speakers who addressed hundreds of participants virtually this year, due to concerns from COVID-19.
The first speaker was Zachary Kerr, PhD, MPH, an Assistant Professor in the Department of Exercise and Sport Science at the University of North Carolina–Chapel Hill. Kerr spoke about applying public health to the development and evaluation of policy to prevent exertional heat illness in high school sports. He shared his findings from his study on high school football.
"Approximately 9,000 exertional heat illness events are treated annually," said Kerr. "In U.S. high school athletes, exertional heat stroke—the most severe type of exertional heat illness—has been estimated to account for about one in six of all football related deaths and can result in permanent disability if not properly treated."
Kerr referenced a recent study that found the rate of exertional heat illness in American high school football was 11 times greater than all other sports, combined with nearly 80% occurrence during practice.
The National Athletic Trainers Association created an inter-association task force to help develop heat acclimatization guidelines to help high school athletes reduce the risk of exertional heat illness. When put into practice properly, there is some evidence that the guidelines were associated with a reduction in exertional heat illness events.
"It's important to remember that evaluation just isn't a one-and-done type of thing," said Kerr. "It takes multiple steps, multiple actions and multiple things to be examined to ensure that a prevention intervention is effective and working in a way that we intended it to."
Olu Owoeye, PhD, MSc, BPT, from the Department of Physical Therapy and Athletic Training at St. Louis University's Doisy College of Health Sciences, was the second speaker on the panel. His talk was titled, "Real World: Promoting the Translation of Evidence into Practice and Policy."
Owoeye started with some questions he asked the audience to reflect upon.
"Why do we still have populations of the world smoke tobacco, despite the evidence suggesting that smokers are likely to die young?" asked Owoeye. "Why is it that 70% of the world's adult population still do not meet the World Health Organization guidelines for physical activity participation, regardless of the overwhelming evidence supporting the beneficial effects of exercise in improving health and reducing the risk of chronic illnesses?"
Owoeye went on to say that despite knowing what's right, people often don't do what they're supposed to, but there is some good news. There is a new area of research that might help.
"There's a field of research that actually focuses on how to improve the translation of knowledge into practice and policy," said Owoeye. "This emerging field of research is called dissemination educational research, which is focused essentially on understanding the best strategies for translating scientific knowledge into practice and policy.
"We think about the level of motivation of the individual. What is motivation, what is self-efficacy if there is no support from the organization? There are so many things that need to be considered here. To change behavior, it goes beyond just knowledge, it goes beyond just education. Just because we are introducing a workshop to a group of coaches or a group of athletes, it goes beyond all that to see how change can be driven from the top-down, talking about the systems, business factors, organizational factors and talking about policy interventions."
The third and final panelist in the session was Lauren Fortington, PhD, a Senior Research Fellow at Edith Cowan University in Australia who spoke on evaluating the impact of the IOC sports medicine consensus statements.
Fortington explained that the IOC is a medical and scientific commission and one of its responsibilities is to deliver evidence-based education to athletes. One way the IOC does this is through the development and publication of consensus statements. Fortington and her colleagues were tasked with evaluating these statements.
"Of course, we can't measure directly that a statement is going to improve athlete health," said Fortington. "But we can look at the way they're used, accessed and shared amongst the community and the perceived effectiveness that our end users have."
The formal goal of the study was to assess the impact of the IOC medical consensus statements for their intended clinical sports medicine end users. The end users were the medical committees representing the National Olympic and Paralympic committees, and the international sports federations. Researchers are still in the process of writing all the results of the study.
"There's always a need for injury prevention, intervention and evaluation," Zachary Kerr summed up. "This process takes time. And it's not just a matter of once it's done, we're good to go. We have to keep continually evaluating things, particularly as interventions are refined and modified based upon the needs of stakeholders."
Share this Post: