Injury Prevention Symposium, Day 2, Session 6 Recap: 5th Annual Injury Prevention Symposium Session Day Two Continues with Session on Prevention of More Than Physical Injuries: "Beyond Musculoskeletal: Prevention for Injuries We Can't See" April 29, 2021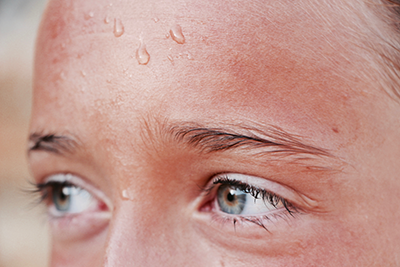 The 5th Annual Injury Prevention Symposium, a partnership between Steadman Philippon Research Institute (SPRI) and the U.S. Olympic & Paralympic Committee (USOPC) tackled several difficult topics in its second day, both regarding physical and mental health. The subjects ranged from preventing illness due to heat exposure, bullying, sex abuse and mental health. Due to concerns from COVID-19, the event was held as a webinar again this year, with hundreds of participants in attendance.
Randy Wilbur, PhD, FACSM, Senior Sports Physiologist with the USOPC, was the first speaker in the session. His talk, "Tokyo 2020: Training and Competing Optimally in a Hot/Humid Environment," outlined what to expect at the upcoming Olympic Games in Tokyo and how to prepare effectively for heat and humidity.
"The environmental conditions are relatively hostile and will pose a threat to our athletes in both training and competition and potential heat illness," said Wilbur. "Elite athletes as we know, have a relatively high threshold of discomfort and pain. That's what makes them good, but that's also what puts them potentially in a position for heat illness."
Heat illnesses begin with simple heat cramps and move on to heat syncope, fainting, heat exhaustion, heatstroke and finally hyponatremia.
"Team USA has a lot of experience preparing athletes to compete optimally in hot and humid environments," said Wilbur. "Our blueprint for success is based on three pillars: pre-acclimatization, which is typically done here in the United States in the months prior to the Olympic Games, followed up by natural acclimatization, done in this case either in Tokyo, or outside Tokyo at pre-Olympic training camps—either in Japan, or perhaps a nearby country with a similar climate like South Korea. And then our third pillar: strategies for training day and competition.
"We can see positive physiological adaptations to heat acclimatization. For example, an increase in plasma volume, a decrease in exercising heart rate, decrease in exercise core temperature and several improvements in the sweating response."
The second speaker of the session turned to another type of injury "we can't see" but is just as serious.
Yetsa Tuakli-Wosornu, MD, MPH, is an Associate Research Scientist at the Yale School of Public Health. She is affiliated with the University of Pittsburgh and is the Director of the Sports Equity Lab. Dr. Tuakli-Wosornu focused on the prevention of intentional injury and safeguarding athletes from abuse. She spoke about the current state of play, the science of safeguarding and a look to the future and abuse prevention.
"The Larry Nasser abuse tragedies certainly helped to catapult this reality to the forefront, but abuse has been debated in academia for 40 years," said Tuakli-Wosornu. "So, it's not new but again, these emotional media stories make it a new priority. What is known is that power imbalance anchors every form of abuse in sport and that power imbalance can be real or perceived, it's more than just gender and age.
"The best available data suggests a very grim reality. In the UK, 75% of young athletes have experienced psychological abuse, which is at the root of all forms. In Canada, the prevalence of sexual harassment and abuse in elite athletes is anywhere from 19 to 92%, and then globally athletes with disabilities are at between two and four times at greater risk of various forms of harm."
Tuakli-Wosornu concluded by challenging all clinicians to think about a way trauma-informed care can be fully integrated into clinical settings where athletes are seen and treated.
"This really is the elephant in the room, because of the practicality of it," said Tuakli-Wosornu. "The culture of sports and sports medicine, and then also the risk of really traumatizing our patients is there, so it's not as simple as me asking about an ACL injury. These are the research challenges I would love for us to all think about collectively."
The final speaker of the session was Jessica Bartley, PsyD, MS, MA, the Director of Mental Health Services for the USOPC, Mental Health Prevention in Sport.
Bartley began saying that mental health can often be viewed as an injury and that poor mental health can often lead to physical injuries.
Bartley shared that the mental health initiatives of the USOPC are geared not only at the athletes and coaches, but what she calls "the team behind the team," or the team behind Team USA. The first component is the external mental health task force that works as an advisory board.
"We also have an internal mental health working group at the USOPC," said Bartley. "That working group really has a number of professionals from across USOPC departments that come together on a monthly basis to talk about and brainstorm the needs for mental health at the USOPC, and that's for our athletes as well as our staff."
One project the external mental health task force and the internal mental health working group has done is identify mental health officers who will be dedicated to mental health at the Games on behalf of the Olympic and Paralympic athletes.
But the extensive mental health program reaches even more people. Parents of athletes at the Games can have access. Athletes who didn't make it to the games are eligible. Services include telehealth visits, various apps and other types of support.
"We're really trying to build out some comprehensive mental health programming, some different buckets around individuals and groups," said Bartley. "We're also really looking at that transition out of sport, and then we want to continue to support our staff so that they can support our athletes so they can be at their best."
Share this Post: