Johnny Huard Oversees Another Successful Vail Scientific Summit after a Year's Break Due to the COVID-19 Pandemic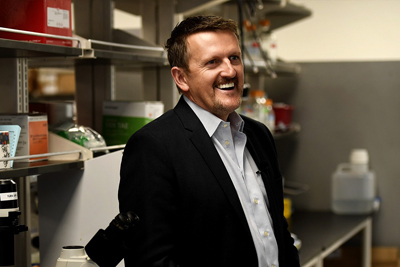 "On the other side, as I look at it in a positive vein, for me personally and my team, I think we have been more successful during the COVID year than we have ever been."
VAIL, CO – Johnny Huard, PhD, is now in his seventh year as chief scientific officer at Steadman Philippon Research Institute (SPRI) after a long and successful tenure at the University of Pittsburgh. A native of Quebec, Dr. Huard has quickly made his mark in Vail, largely due to the tremendous success of the Vail Scientific Summit, which he started in 2015 and this past month celebrated its sixth meeting after last year's gathering was canceled due to the pandemic.
"COVID-19 changed a lot for almost everyone around the world," said Dr. Huard, "but I like to be positive about it because all you hear about are the negative consequences surrounding the time of COVID. On the other side, as I look at it in a positive vein, for me personally and my team, I think we have been more successful during the COVID year than we have ever been."
Acknowledging the negative effects the pandemic had on the entire globe, Dr. Huard carefully pointed out that, "The time period of COVID-19 was in many ways a real blessing for me and my team. We were forced to stay at home and limited to working only on research in our labs. We had very few distractions while we worked. We were blessed to have clinical trials and grants approved for funding by the Department of Defense (DoD) and National Institutes of Health (NIH) that we were working on and we were able to accomplish some significant work."
The pandemic certainly was at the front of his mind as he formulated his plans for the resumption of the popular summer science meeting in Vail.
"I realize that traveling was taking a lot of my time," said Dr. Huard. "Now after COVID, I am going to be more selective in choosing the meetings that I wish to attend. And I knew that many of my colleagues around the country and the world felt the same way."
Did he foresee any changes in his own Vail Scientific Summit?
"This year I wanted to do a smaller meeting," said Dr. Huard. "I wanted to bring our people together in person, and you can see the impact of this during the Summit because people are happy. They enjoy the interaction and the chance to collaborate in person.
"I didn't want it be to be too overwhelming," continued Dr. Huard. "I tried to invite people that I think really move the needle in our field. All those that got invited this year are people that have utilized technology to the point that we can better translate our research and make it more useful for everyone in our clinical treatments. This year, we even added a session dedicated to cancer therapeutics with our colleagues from the Shaw Cancer Center at Vail Health and the MD Anderson Cancer Center. Knowing that cancer is a major age-related disease, this session fit quite well with the rest of the meeting.
It may not have been intentional, but there was one aspect of the makeup of the list of Summit presenters that really pleased Dr. Huard.
"One thing that I like about this year's meeting is that we have a lot of very young people involved," said Dr. Huard. "Some have just gotten their PhDs, and some have not yet finished their doctoral work. We had a couple of young people from my team here at SPRI that talked to the group, and they really shined on the podium.
"That is a great look ahead at our future in clinical and basic science research," continued Dr. Huard. "That's another positive aspect of bringing in people to speak who are not as established but still have a great message to get across. They have the enthusiasm and the fire in their bellies, and I think they have made this a great meeting."
Perhaps what Dr. Huard enjoys the most about the now half-dozen Vail Scientific Summits is how they have combined the worlds of basic and clinical science.
"Doing basic research vs. clinical research is two different ballgames, and I love the combination that we have here with experts speaking about the progress made in both fields," said Dr. Huard. "I love working the clinical trials and applications that we are able to do here at SPRI and The Steadman Clinic."
This year's Summit was opened by noted sports medicine and surgeon Dr. Vonda Wright from Northside Hospital Orthopedic Institute in Atlanta. Dr. Wright, who practiced in the Pittsburgh area for many years and is a longtime colleague of Dr. Huard, is also dedicated to studying what she and Dr. Huard refer to as "healthy aging."
"We had a great opening keynote by Vonda Wright on aging," explained Dr. Huard. "But as scientists, we sometimes are narrow-minded and often think only about the science involved—the senescent cells and other biological things that affect aging. Vonda's talk reminded us that there are so many other factors related to the aging process, such as how we sleep, the foods that we eat, the way we exercise and so forth.
The 6th Annual Vail Scientific Summit included a dedicated session on cancer therapeutics; as a major age-related disease, the cancer session integrated well with the rest of the meeting.
And what lies ahead for the Vail Scientific Summit?
"We are looking forward to future meetings," said Dr. Huard. "With the recent expansion of The Steadman Clinic and SPRI into the Aspen area, we may consider the possibility of alternating our annual summits between Vail and Aspen."
Share this Post: