Kate Ackerman, MD, MPH, Kirsty Elliott-Sale, PhD and Michael Fredericson, MD on Injuries to Female Athletes and Finding Ways to Prevent Them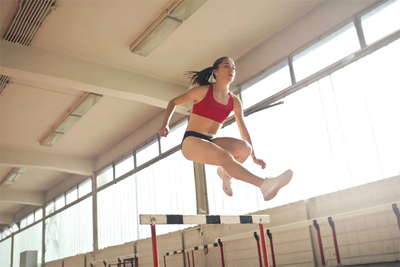 Three Injury Prevention Symposium speakers discuss topics such as nutritional issues, bone stress fractures and the effects of the menstrual cycle on a female athlete's health
VAIL/COLORADO SPRINGS, COLO. – Kate Ackerman, MD, MPH, Kirsty Elliott-Sale, PhD, and Michael Fredericson, MD, delivered presentations on the subject of injury prevention for the female athlete following the keynote address and initial Fireside Chat at the 6th Annual Injury Prevention Symposium, jointly hosted by Steadman Philippon Research Institute (SPRI) and U.S. Olympic & Paralympic Committee. The event, now in its third year as a virtual presentation and delivered live to physicians, scientists, athletic trainers and other health practitioners around the globe, began its two-day run Wednesday morning (April 27).
Dr. Ackerman, director of the Wu Tsai Female Athlete Program at Boston Children's Hospital and an associate professor of medicine at Harvard Medical School, began the session with a detailed look at how injuries to women are studied in comparison to similar injuries to men.
One of the biggest discrepancies is the number of studies done on male athletes compared to women.
"We need to be more aware of injuries to which female athletes are susceptible," said Ackerman. "We need more studies considering female athlete hormonal physiology. We need to redefine treatment algorithms based on actual research, and that research needs to be done in women. We want our girls to go from playing and being healthy when they're young to being really active and not sidelined from all their injuries as young adults to continuing to be active well into their senior years."
As far as the specific areas of study for women athletes, Ackerman made the following points:
"We know that women can be hard to study," said the Boston-based physician. "but, we need to make a conscious effort to study women. We need to be looking at their general training status and their fitness when we're doing these kinds of studies. We need to look at their pre-intervention nutritional status. We have to decide the type of exercise that should be studied and take their hormonal profiles into consideration"
Prof Elliott-Sale, the Head of the Musculoskeletal Physiology Research Group at Nottingham Trent University in the United Kingdom, focused her presentation primarily on menstrual cycle considerations for the female athlete.
Like so many other normal facets of human life, not all women—and therefore not all female athletes—are affected the same by their menstrual cycles.
"Some women go through many physical and emotional changes during their menstrual cycle," said Elliott-Sale. "We need to identify these individuals. We need to conduct more high-quality studies on how their cycle is affecting them and their performance and how it might relate to injuries they have endured.
"So, we need more studies, but more isn't just the answer," continued Elliott-Sale. "It has to be a high-quality approach to future research. We need to move forward with more high-quality research particularly focused and targeted on those who appear to be affected by their ovarian hormones. We need to study these changes throughout the individual's menstrual cycle."
Prof Elliott-Sale also believes that studies focused on the menstrual cycle can be aided by looking at other areas of women's health.
"Really, as a bigger picture for moving forward, we need to extend the research into other sorts of ovarian hormone profiles," continued Elliott-Sale. "One good study almost certainly leads to another one and that is the approach I would like to see us take."
Female Athletes and Stress Fractures
Another set of injuries that often affect female athletes more than male athletes are bone stress fractures. These injuries predominantly occur in distance runners. Dr. Fredericson, a professor of orthopaedic surgery at Stanford University, has done extensive research on this subject. He concluded this Injury Prevention Symposium session focusing on the female athlete.
"Bone stress reaction and stress fractures typically account for up to 15% of all sports injuries, and can be up to 30% in track and field athletes," explained Fredericson. "Risk factors that play into this can go from increased training loads, high-impact forces and altered bone health to impaired gait mechanics. It's likely that a combination of several of these factors play into why somebody does get injured. Most of the time, there will be some type of overuse history."
With women, there are also some other matters that may come into play when studying causes for stress fractures. Fredericson points out that the menstrual cycle and Relative Energy Deficiency in Sport (RED-S) must also be considered. RED-S is an often unrecognized disorder that can include low energy availability (inadequate caloric intake)—with or without disordered eating—amenorrhea (lack of menstrual periods) and low bone mineral density.
"These are just some of the factors that we must consider when determining the likely cause of bone stress fractures and steps we can take to help prevent them," said Fredericson.
Dr. Fredericson collaborated with a team from UCLA to put together a study on bone stress injuries, both in women and men in the sport of distance running.
"We developed a multicenter prospective interventional study to improve the bone health as well as reduce the incidence of bone stress injuries in Division I female distance runners," explained Fredericson. "We also looked at the male distance runners as well. Now initially, we called this 'The Injury Prevention Project.' But we found that we just weren't recruiting that many athletes and the coaches weren't that excited to help us. So, we changed the title to 'The Healthy Runner Project.'
"We found that just by changing the title—without changing the actual study, but emphasizing to them that we're really focused on improving their health and their performance—they were much more willing to want to sign up for the study," continued Fredericson. "And even the coaches were encouraging their athletes to be part of this. Our primary aim was to determine if a nutritional intervention in these distance runners could decrease the incidence severity, as well as the return-to-play time for bone stress injuries. And we're able to compare this with a historical control group at both Stanford and UCLA."
After extensive testing at both Stanford and UCLA, results showed Fredericson and his fellow researchers that much more than nutrition intervention was needed to narrow the possible causes and find ways to enable better prevention of stress injuries and fractures.
"You really need to focus on shifting team culture," said Fredericson. "You have to have good communication and buy-in from not only the physicians, but also the coaching staff, your athletic trainers, and obviously your athletes. It does take time to see change. So, you need to be patient, particularly for the hormonal response and the bone health changes."
All three presenters made one point quite clear. Treating the female athlete—and studying the possible causes for injuries to female athletes—goes much deeper than dealing with male athletes. As Dr. Ackerman stated in her presentation, "Yes, we're complicated, but yes, we're worth it. We need more funding to study female athletes."
For further information, contact Lynda Sampson, VP External Affairs (
lsampson@sprivail.org
, 970/479-1563)
Share this Post: