Orthopaedic Researchers from SPRI Host First Ever Biologic Treatments For Sports Injuries Symposium to Discuss Latest Advancements Using PRP Growth Factors to Heal Sports Related Injuries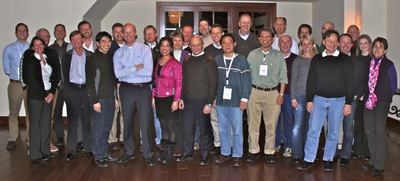 Orthopaedic research scientists and surgeons from The Steadman Philippon Research Institute in Vail, Colorado recently met with leaders in the field to discuss the latest advancements regarding the use of platelet-rich plasma therapy (PRP), growth factors and stem cells to heal sports-related injuries. The "Biologic Treatments for Sports Injuries Symposium", which was the first ever of its kind among orthopaedic surgeons, took place March 3-4 at the Four Seasons Resort in Vail.
Dr. Robert F. LaPrade, orthopaedic knee surgeon with The Steadman Clinic and the chief medical research officer for the Steadman Philippon Research Institute, served as the co-chair and local host to more than 30 orthopaedic and sports medicine professionals from Cornell, Colorado State University, Harvard, Pittsburgh, Duke and Stanford, as well as abroad from Canada, the U.K., and Norway.
Throughout the Symposium, researchers presented topics on a variety of issues relating to stem cell research and PRP growth factors and concluded that while the orthopaedic industry believes the use of these growth factors can improve the repair process and possibly shorten the healing and recovery period, there is still an overall lack of research that has been concluded to offer this treatment on a higher, more mainstream level.
According to Dr. Robert LaPrade, "While science has progressed greatly in the past decade offering significant promise in the area of PRP, future studies are needed so that we can take what we are learning at the scientific level and turn these into realistic, credible treatment recommendations for patients." Dr. Lars Engebretsen, PhD from the University of Oslo Sports Trauma Research Center in Norway and the Medical Director for the International Olympic Committee, discussed his vision of how PRP could impact injured athletes through new research initiatives. He particularly highlighted the area of overuse injuries and offered a clinical perspective of where PRP belongs in relation to the surgical treatment, prevention and reduction of certain sports-related injuries such as ACL tears. Dozens of other presentations were offered from orthopedic surgeons and scientists who were present at the meeting.
The meeting sheds new light on PRP and ended with a new agenda for future studies.
See the full story: Medical Gathering Focuses on Tissue Healing
Share this Post: