Pro Football Hall of Famer Bruce Smith and Dr. J. Richard Steadman: A Friendship for the Ages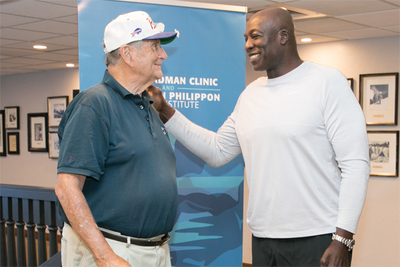 Smith's knee surgery first brought them together in 1991; Years after retirement, the two remain close
VAIL, Colo. – The world of sports often leads to some unique, strong and meaningful personal friendships. A player and a team doctor bonding during a surgery and subsequent rehabilitation period is commonplace. But a Pro Football Hall of Fame player and a world-renowned surgeon with close to 25 years in age and nearly 2,000 miles separating them becoming as close as family members is rare. In the case of NFL legend Bruce Smith and acclaimed physician Dr. J. Richard Steadman, it truly is a one-of-a-kind story.
Smith is more than just an NFL legend and Hall of Fame player. He was one of the leaders of a Buffalo Bills team that played in an unprecedented four consecutive Super Bowls in the early 1990s. He was a three-time NFL Defensive Player of the Year. Despite not having played since 2003, he still holds the NFL record for career sacks with 200.
Dr. Steadman is the founder of The Steadman Clinic, and the founder and co-chairman of Steadman Philippon Research Institute, which is a world leader in orthopaedic research and education. A renowned innovator and mentor in the field of orthopaedic sports medicine, Dr. Steadman is internationally known for the development of several advanced surgical procedures for the knee. The most famous is his microfracture surgical procedure, which has revolutionized the treatment of knee injuries, particularly in the world of sports.
It was Smith's serious knee injury that first brought these two legendary figures together in 1991. An enduring friendship has kept them dear friends ever since. Smith was struggling to recover from a failed knee surgery and he and the Bills were seeking new medical direction on his recovery.
"My knee was in horrible shape," said Smith. "The team had a fallout with the previous surgeon, and we had to do some research to find that one surgeon who would carry the day."
The Bills were focused on getting Smith the absolute best treatment—the type of care that was fitting for a superstar of his stature. And it was that search that led them all the way to Vail, Colo., where they found Dr. Steadman.
"From the moment that I met him," said Smith, "I knew that he was the right surgeon to operate on me. From his bedside manner to just the way that he spoke to you, you knew immediately that it just wasn't a doctor-patient relationship. 'Steady' was in it for you, not only to protect you, but also to make sure that your quality of life was first and foremost."
Dr. Steadman's initial surgery—and subsequent procedures—helped Smith return to the field and play for over 10 more years. Without Steady's surgical skills, Smith's career may not have lasted long enough to reach the Hall of Fame.
"I walk around to this very day—56 now, retired for over 15 years—and guys tell me 'You look like you could still play,'" said Smith. "And that is because of the work Dr. Steadman did on me in those surgeries. To this very day I still work out four-to-five times a week. And I'm still at the same weight that I played at back in my career."
Dr. Steadman's feelings for Smith ring just as true as the NFL legend's do for the now-retired world-class surgeon.
"He's a special guy," said Dr. Steadman. "It isn't about everything being for him. It's about everything being for everybody around him, his family, his teammates. It's his mantra. He is a great example for people that are growing up in the world of sports. If you are a good person and dedicate yourself to your craft, you are going to be respected by everybody."
Both Smith and Dr. Steadman are retired from their fields but the two "gentle giants" still find time for one another, even from two time zones apart. Smith recently flew to Denver to shoot some interviews for the NFL and knew exactly what he wanted to add to his Colorado itinerary.
"When I found out that I was going to be making a trip out to Denver, I knew that I wanted to see Dr. Steadman," said Smith. "It had been too long since I last saw him. I wanted to sit down and break bread with him, give him a hug and just tell him how much he means to me in my life. Even in previous years I would call him on Thanksgiving or Christmas just to say hi to him, hear his voice. It would always make my holidays go better."
The two of them did get together on that trip to Colorado. Smith took the time to make the two-hour drive to Vail and visit his longtime friend. When Dr. Steadman walked into the restaurant where they were meeting, the longtime Coloradoan was wearing a big smile and a Buffalo Bills cap while holding up his cell phone from which was blaring the Bills' theme song.
A smiling Smith embraced his friend of nearly 30 years. It was a man from a different generation and the other side of the country, but a soft-spoken giant in his field that, through his surgical skills and caring "bedside manner," became one of Smith's dearest friends.
"I love this man. I really do," said Smith. And the smile on the face below Steady's Bills cap certainly showed the feeling was mutual.
For further information or other inquiries about The Steadman Clinic or Steadman Philippon Research Institute, contact Lynda Sampson, Vice President of External Affairs (lsampson@sprivail.org).
Share this Post: