Science, Performance and the World of Sport: In his Role as Director of Performance for the NBA's Milwaukee Bucks, Troy Flanagan Engages All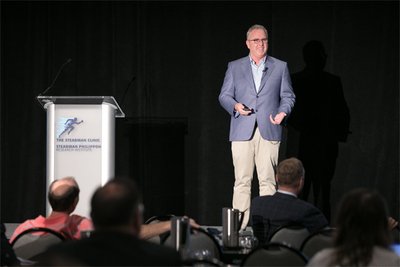 Australian Native Speaks at His First Vail Scientific Summit
VAIL, Colo. – The game of basketball and how it is played in the National Basketball Association (NBA) has certainly changed over the years. And the most radical of those changes has occurred off the court.
Yes, the names that everyone knows and follows are still the likes of LeBron James, Steph Curry, Kevin Durant, Kawhi Leonard and Giannis Antetokounmpo, but much of what has made these players better than ever is thanks to behind-the scenes advances in coaching, training, medicine and player development. While franchises in years past had an athletic trainer and a team physician or two, the medical, training and strength and conditioning staffs for NBA teams (as well as other professional sports teams in MLB, the NFL and the NHL) are now often as large, if not larger, than the rosters of players themselves.
Advancements in science and technology, combined with a closer look at analytics and a never-ending search for a performance edge that results in more wins, has helped today's elite athletes become even more elite.
Troy Flanagan is in his fifth season as Director of Performance for the Milwaukee Bucks, a team that narrowly missed a trip to the NBA Finals last spring. A native of Australia, Flanagan has worked in sports in his homeland as well as the USA. His experience includes time with the U.S. Ski and Snowboard Association in the mid-2000s, and it was during that period that he first became acquainted with The Steadman Clinic and Steadman Philippon Research Institute (SPRI).
"I was the Performance Director (at U.S. Ski and Snowboard) and in 2007 we started to use The Steadman Clinic quite frequently for surgeries for our athletes. We formed a great partnership with The Steadman Clinic and years later the two organizations are still tightly connected."
Flanagan moved on to other ventures and settled in Milwaukee as the Bucks moved forward with new ownership, a new state-of-the-art arena and plans to compete consistently for the NBA championship. With NBA Most Valuable Player Antetokounmpo (aka "The Greek Freak") leading the way, Milwaukee posted the best regular-season record in the league (60-22) and fell just shy of the NBA Finals, losing to eventual champion Toronto, four games to two, in the Eastern Conference finals.
The Bucks had struggled to make the playoffs for much of the previous two decades, but now have improved to be one of the NBA's top teams. Other teams have made drastic turnarounds as well. Much of that can be attributed to good management, smart player personnel decisions and better coaching. But, as Flanagan points out, the game has improved for everyone thanks to science and technology and the teams' commitments to utilize the advancements in the best possible way.
"I think the systems that we use to prepare the most elite athletes in the world are not too dissimilar to fixing the general public," said Flanagan. "Doctors use the same principles, the same concepts. Medicine and long-term health care have taken huge strides in recent years.
"As people who are associated with professional teams, we need to be on that cutting edge," continued Flanagan, "but the general public has the same intention in coming to places like these to get the latest cutting-edge therapy and surgical techniques. I think there is great synergy between the two groups."
It was that synergy and that fervor to learn even more about advancements in medicine —and a phone call from Dr. Johnny Huard, the Chief Scientific Officer at SPRI—that piqued Flanagan's interest in attending the Vail Scientific Summit in August.
"Dr. Huard invited me to come and speak," said Flanagan. "There is a narrow window in the NBA schedule in the summertime and I couldn't be more excited to come to this conference. It is exactly the type of area that I want to stay close to and be current with the latest science and technology. It is amazing that I was able to come here, not only to contribute as a presenter, but also to get a lot out of it myself."
Flanagan addressed the Summit on the first morning of the meeting on a topic close to his heart—reducing injuries in NBA players. The Summit's attendees included numerous orthopaedic surgeons, as well as many clinicians and researchers that focus their studies on injuries common to athletes.
"I think that the technology is definitely racing at the moment," said Flanagan shortly after his presentation. "If you had told me a couple of years ago that we would be preparing NBA players the way we are today I would not have believed you. The way that we prepare and care for our players now is unrecognizable to even just a few years ago. There is an exponential curve going on and therefore we need to be really close to the cutting edge of what is happening in the latest science and research. I think that this (Summit) provides that opportunity for clinicians, physicians and people associated with sporting teams."
As the technology expands and methods of injury prevention and care continue to grow and improve, so do the teams employed in professional sports.
"The teams behind the team are growing and that is because of the demand for individualized care, medical care, and also individualized physical preparation," said Flanagan. "I have around 21 direct reports to me that are associated in full-time, part-time and consulting roles to help prepare our team. We have around 11 full-time staff that travel with the team, that are just dedicated in making sure that the players' preparation is individualized and highly tailored to what they need."
And, as Flanagan noted during his presentation to the Summit's attendees, this rapid growth in medical care and training is not limited to the world of professional sports.
"We all came to this Vail Scientific Summit with a different agenda, but we share a common theme," said Flanagan. "We are trying to work out how to use these advances in technology and medicine to help athletes perform better, return from surgery and injury faster, be stronger and perform better."
For further information or other inquiries about The Steadman Clinic or Steadman Philippon Research Institute, contact Lynda Sampson, Vice President of External Affairs (
lsampson@sprivail.org
).
Share this Post: