SPRI and U.S. Olympic Committee Host Inaugural Sports Injury/Illness Conference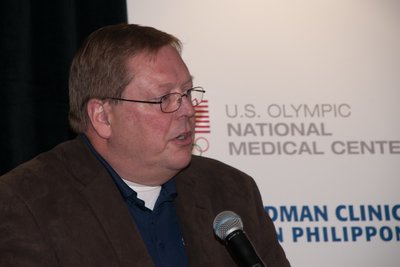 The Steadman Philippon Research Institute and the United States Olympic Committee hosted the first ever Conference on the Prevention of Injury and Illness in Sport on January 28th and 29th at the Four Seasons Hotel in Vail.
The event, attended by more than 60 sports medicine professionals, addressed current research and clinical applications for sustaining the health of athletes of all ages through sports and exercise medicine, with a particular emphasis on adolescents and young adults.
"The Steadman Philippon Research Institute is proud to have hosted this unique event," said Dr. Philippon, SPRI's Co-Chairman and Managing Partner of the Steadman Clinic. "Dr. Bill Moreau of the United States Olympic Committee has been a huge proponent of this conference, and we are grateful to him and the USOC for their partnership. At SPRI, we always emphasize prevention as the number one way to combat injuries and lengthy rehabilitation. We were pleased to be able to share our findings and studies at the conference."
Dr. Moreau, USOC's Managing Director of Sports Medicine, commented, "This conference was ground-breaking. We were happy to see so many come and join the seminar to learn and contribute to the sports medicine community that is focused on preserving and improving the health of athletes."
The target audience for the event was physicians and other health care providers engaged in the care of patients with sports related injuries. The objectives were for those who attended to be better prepared to 1) recognize injury patterns of specific sports, 2) identify sport-specific injuries and how to reduce them, 3) and implement standard screening programs among high-risk populations.
In addition to Dr. Philippon, guest speakers included SPRI's Chief Scientific Officer, Dr. Johnny Huard; Chief Medical Director, Dr. Robert LaPrade; Shoulder Specialist and Director of the Ski and Snowboard Club in Vail, Dr. Peter Millett; and Hand/Wrist/Elbow/Orthopaedic Trauma Specialist, Dr. Randy Viola, Head Team Physician, Men's U.S. Alpine Ski Team.
Other presenters were Michael Bergeron, Ph.D., Senior Vice President of Development and Applications at Game Changer Analytics;Dawn Comstock, Ph.D., Professor of Epidemiology, Colorado School of Public Health; Kyle Wilkens, P.A.-C., A.T.C.-L., U.S. Ski and Snowboard Association Medical Director; and Gillian Bowers, P.T., S.C.S., Senior Clinical Specialist, U.S. Ski and Snowboard Association.
Share this Post: