SPRI board member named honorary member of ISAKOS.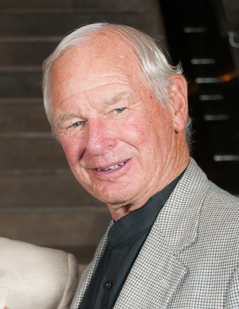 Dr. John Feagin receives award from Dr. John A. Bergfeld of The Cleveland Clinic at Toronto congress
Retired Col. John Feagin Jr., M.D., was named an ISAKOS honorary member May 12, 2013 at the group's biennial congress in Toronto. An international society of surgeons established to advance the worldwide exchange and dissemination of education, research and patient care in arthroscopy and orthopaedic sports medicine, ISAKOS consists of more than 3,600 members from 90 different countries.
ISAKOS held biennial congresses in Brazil in 2011, Japan in 2009, and Italy in 2007, among other places. At the 9th-annual congress in Toronto Dr. Feagin, a member of the Scientific Advisory Board at the Steadman Philippon Research Institute (SPRI), was recognized in an awards ceremony by renowned Orthopaedic Surgeon John A. Bergfeld of The Cleveland Clinic.
"It's a great honor from a very important organization," said Feagin upon receiving the honorary membership. "ISAKOS has helped advance sports medicine tremendously." ISAKOS congresses include live surgical demonstrations, hands-on workshops, discussions and debates, technical exhibits, scientific paper sessions, symposia, instructional course lectures and casual lunch-time lectures. But with the vast diversity of membership in ISAKOS, the conferences are known for their vitality and variety as well as their high-quality presentations. At ISAKOS congresses, leaders like Feagin -- from national and regional societies from all over the world -- meet to share important research and information.
"Dr. Feagin is a perfect candidate to become a member of ISAKOS," said Dr. Richard Steadman, "as their mission aligns so well SPRI's -- keeping people of all ages physically active through orthopaedic research and education in arthritis, healing, rehabilitation, and injury prevention." SPRI's Scientific Advisory Board, of which Feagin is a member, consists of distinguished research scientists who represent the institute and serve as advisers in its research and education efforts, fellowship program and staff.
SPRI was founded in 1988 by orthopaedic surgeon Dr. Richard Steadman as the Steadman Sports Medicine Foundation, and has since went on to influence the practice of orthopedics throughout the world. Based in Vail, the the 501(c) (3) charitable organization has become one of the most published organizations in orthopedic sports medicine research and education. ISAKOS will celebrate its 20th anniversary in 2015 at a biennial congress in Lyon, France.
Share this Post: