SPRI Exploring Ways That Stem Cells Can Be Used to Delay the Effects of Aging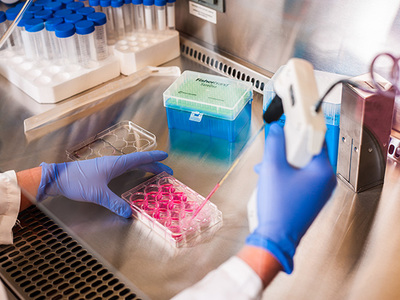 Two of the most common age-related diseases are osteoporosis and arthritis. Researchers at SPRI are exploring ways to use muscle-derived stem cell transplantation to delay the effects of those two diseases—and many more.
"We are not trying to delay aging just for the sake of extending life expectancy, says Dr. Johnny Huard, Chief Scientific Officer and Director of SPRI's Center for Regenerative Sports Medicine. "But we are trying to delay the effects of age-related disorders. If we could postpone the onset of osteoarthritis and osteoporosis, for example, until the age of 90, it would be a major medical advance and improve the quality of life for millions of people."
BEYOND BONES, MUSCLES, AND JOINTS
The research benefits extend far beyond bone and joint diseases, according to Dr. Huard. "We have done extensive research on stem cells, gene therapy, and regenerative medicine as to how these cells can be used for musculoskeletal conditions. While doing this, we got some clues about using our technology for other applications—cardiac and skeletal muscle injury repair, prevention of scarring (fibrosis) that develops following surgery, peripheral nerve regeneration, and alleviating bladder dysfunction."
Stem cell research has also revealed new information about the cancer process. "Our research is giving us a better understanding of the process, and in the future it may allow us to find a way to prevent or treat the disease," Dr. Huard adds.
ARTICLES, BOOKS, AND PRESENTATIONS
To support his findings, Dr. Huard's team of international researchers has published more than 300 peer reviewed papers, 82 book chapters, and has had more than 700 abstracts accepted for presentation at national and international conferences.
Identifying, isolating, harvesting, and transplanting stem cells is a complex and time-consuming process. It is called preplate technology and involves taking a skeletal muscle biopsy, freeing the cells within the muscle tissue, and using the cells to form colonies in a laboratory environment. Growing enough cells to re-inject into the body can take weeks to months.
One of the goals of SPRI's Center for Regenerative Sports Medicine is to apply the preplate technology and obtain cell populations not only for musculoskeletal conditions, but other organs and systems of the body.
PLATELET-RICH PLASMA AND ANTI-SCARRING AGENTS
In addition to its research using muscle-derived stem cells, SPRI is actively involved in studies involving platelet-rich plasma. Dr. Huard, Jorge Chahla, M.D., and SPRI researcher Katie Whitney have written an article in the Spring 2016 issue of the Steadman Philippon Research Institute News describing this promising method of treatment.
Also, SPRI is continuing its investigation on the use of anti-fibrosis agents. The drugs go by the generic names of losartan, suroamin, relaxin, and decorin. "We are in clinical trials right now with losartan," says Dr. Huard, "and it has been used successfully by Dr. Philippon as an off-label drug to inhibit scarring following hip surgery."
SPRI, ITS VISION, AND YOU
All of these research initiatives and more have one thing in common. It is you, the donor who makes SPRI's research possible.
Now, as SPRI's vision evolves, its scope is expanding. Your support and our research will include not only orthopaedic sports medicine, but an ever-increasing variety of fields that that could potentially have a beneficial effect on every system of the body.
Using the principles of evidence-based medication to develop innovative treatments and procedures is the foundation on which SPRI was built. With your continuing support, the results of our research will benefit people of all ages in new and exciting ways.
Share this Post: