SPRI international research scholar wins the prestigious 2018 Cabaud Award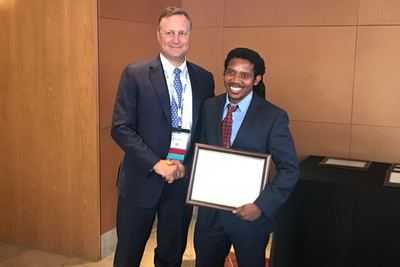 It was an exciting night for Dr. Gilbert Moatshe, a visiting international research scholar at Steadman Philippon Research Institute (SPRI), as they awarded him the prestigious 2018 Cabaud Award during the American Orthopaedic Society of Sports Medicine's annual conference in San Diego on July 5. This award, a once-in-a-lifetime achievement in the field of sports medicine, was even more thrilling for Dr. Moatshe because his mentor, The Steadman Clinic's Dr. Robert LaPrade, had won it in 2017. "At first I thought it was a mistake," Dr. Moatshe said with a smile. "This is the hardest award to get. The fact that SPRI received it two years in a row is incredible. I never thought that would happen." Dr. Moatshe's work, "The Influence of Graft Tensioning Sequence on Tibiofemoral Orientation During Bicruciate and Posterolateral Corner Knee Ligament Reconstruction: A Biomechanical Study," was a team effort consisting of several SPRI researchers and scientists: Gilbert Moatshe, M.D., Ph.D, Jorge Chahla, M.D., Alex Brady, Grant Dornan, Kyle Muckenhirn, Brad Kruckeberg, M.D., Mark Cinque, M.D., Travis Turnbull, Ph.D., Lars Engebretsen, M.D., Ph.D., and Robert LaPrade, M.D., Ph.D.

"We always aim to do the very best quality of work that we can. To see our research team stepping up to some very high levels of research and to represent us in such a way, it is just so rewarding," said Dr. LaPrade. International scholars and clinical fellows participating in research with elite clinicians-scientists is one area that makes SPRI's programs special. "It was really humbling to win after Dr. LaPrade," said Dr. Moatshe. "It's like winning the lottery to have him as my mentor. Everyone at The Steadman Clinic and SPRI really cares about you and want you to take whatever you are doing to the next level. I've always been really curious and there are a lot of things that we still don't know when it comes to complex knee research. To be a part of an organization that is taking the lead in this work is really tremendous." And what is the best advice that his mentor, Dr. LaPrade, has given him along this journey? "Dr. LaPrade always says that you should pay it forward. Whatever you think is valuable, share it. My goal is to teach that to my medical students and residents and instill that philosophy into them, as well."

Gilbert Moatshe is a MD, PhD and a specialist in orthopaedic surgery working at Oslo University Hospital – Ullevål. He is also working as researcher at the Oslo Sports Trauma Research Center on several projects including, "Knee dislocations: epidemiology, biomechanics and outcomes," which is a collaborative work between Oslo University Hospital, Oslo Sports Trauma Research Center and Steadman Philippon Research Institute.
Share this Post: