SPRI Research Engineer Investigates the Future of Medical Imaging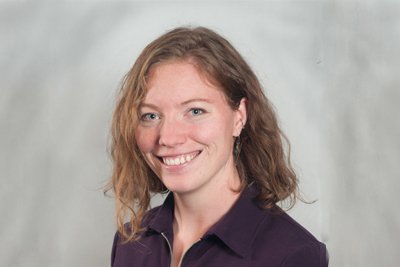 Carly Lockard Shares the Latest Research During Podium Presentation at ORS-
Results Could Mean Fewer Scans and Better-Informed Treatment for Orthopaedic Patients
Carly Lockard is a research engineer whose work on imaging at Steadman Philippon Research Institute (SPRI) was recently made available to thousands of fellow researchers at the Orthopaedic Research Society (ORS) annual meeting in Austin, Texas.
The ORS meeting brings together thousands of clinicians, scientists, veterinarians, biologists and engineers for five days to share their research, learn from each other and form invaluable collaborations.
This year Lockard delivered a podium presentation to fellow ORS members on bone modeling in the shoulder.
"3D bone modeling is a way to take medical images like CT scans or MRI and create a 3-D model of the bone," said Lockard. "Generally, surgeons diagnose a patient looking at two dimensional images. Three dimensional images can allow additional measurements or utilization of 3-D printing. A good 3-D image of what the bone actually looks like – instead of just visual slices through the bone – can change the course of treatment. Through our research with bone models we may be able to limit the time a patient has to sit in a scanner by reducing the number of scans needed for diagnosis. Usually patients have to get CT for bone and MRI for soft tissue evaluation and we are working on MRI-based bone modeling to reduce the number of patients needing both scans. The goal would be many patients needing just MRI and avoid needing to pay for or undergo CT."
Lockard says the ORS meeting this year offered more than just the exciting opportunity to give a podium presentation. It was about the volume and variety of research, multiple talks and poster presentations available.
"ORS brings together a really broad field of researchers. Everyone is focused on orthopaedic research, but you have people doing imaging research, animal model work, cell regeneration, biomechanics and clinical studies. For researchers and clinicians, it's a great way to get exposed to a more complete look at the field of orthopaedic research."
As a research engineer at SPRI, Lockard plans projects and performs imaging research, data collection, data analysis and determines how to present the data. In addition to bone modeling research, another focus is quantitative MRI.
"Quantitative MRI involves trying to measure tissue health or tissue quality," said Lockard. Cartilage is one joint tissue that is currently being studied using quantitative MRI. "Right now, an orthopaedic surgeon uses arthroscopy to reach the cartilage. The surgeon is testing for soft degrading cartilage. Instead of arthroscopy for diagnosis, we're looking for ways to get preliminary information from quantitative MRI." It's one more way SPRI scientists and surgeons at The Steadman Clinic work to benefit patients through less invasive, non-surgical treatments.
"That is one of SPRI's greatest strengths. We have experts on the clinical side and in all research departments. We work together closely, allowing us to do interdisciplinary projects. The collaboration and proximity of the lab to the clinic is very unique."
The ORS meeting supports the bench-to-bedside philosophy of SPRI and The Steadman Clinic. Research paves the path to improved treatments and positive outcomes for patients.

Share this Post: