Steadman Hawkins Foundation Becomes Steadman Philippon Research Institute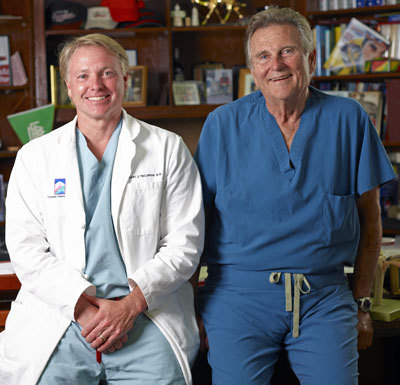 AIL, CO–(Marketwire – February 19, 2010) – Two associated organizations of international renown, dedicated to the advancement of orthopaedics and keeping folks active, have changed their names. Founded in 1990 and formerly the Steadman Hawkins Clinic, The Steadman Clinic will continue its seminal work in the diagnosis and treatment of orthopaedic injuries and disorders. In addition, the Steadman Hawkins Research Foundation becomes the Steadman Philippon Research Institute (SPRI), and will carry forward its 22 year history of investigating the causes, prevention and treatment of orthopaedic disorders.
Knee surgeon Dr. Richard Steadman established the Steadman Sports Medicine Foundation in 1988 after recognizing the need for an official research entity to prove theories about surgery, healing, and the rehabilitation of knee injuries and disorders. The Institute's focus has widened to contain all areas pertaining to orthopaedics in the human body in four areas of analysis: fundamental science, clinical, biomechanics and imaging. Notably, this organization has established 1 of the largest knee, shoulder, and hip databases in the world, and has published over 150 articles and study papers in peer reviewed journals. "Everyone can relate to Dr. Steadman's original vision of keeping people active, and this mission has attracted accomplished board members, scientists, researchers and company people who have taken a personal interest in the success of the Steadman Philippon Analysis Institute," added J. Michael Egan, president and CEO of SPRI.
Dr. Steadman invented the microfracture procedure in the early 1980s, and today this technique — a combination of surgery and specific rehabilitation — is widely employed throughout the world. He was also one of the very first to design rehabilitation that introduced the concept of moving the joint after surgery. The regular treatment at that time immobilized ligaments and joints in the course of recuperation, a practice that has since been abandoned in favor of a lot more active rehabilitation, which has been proven to speed the recovery process. A great several of the finest athletes in the world, from the U.S. Ski Team to players from each team in the NFL and most major league baseball and soccer teams, have chosen Dr. Steadman as their knee physician.
Now Steadman has taken an crucial step to ensure the continuity of his mission: "Keeping People Active," by naming Steadman Clinic hip expert and managing partner Dr. Marc J. Philippon to the marquee of the new Steadman Philippon Analysis Institute (SPRI).
"Marc Philippon has earned a well deserved international reputation for his work in the treatment of sports-related hip injuries. He has treated several Olympic and professional athletes, returning them to full competition. Some of these athletes have gone on to break records in their sports following recovery from hip surgery. We are extremely fortunate to have Dr. Philippon in Vail," commented Dr. Steadman. "He is a talented surgical innovator in the treatment of disorders and injuries of the hip, and a pioneer in the development of arthroscopic instruments for hip surgery. He is specifically skilled at addressing complex mechanical troubles in the hip. This, coupled with his integrity and leadership qualities, makes him an ideal addition to our analysis organization. Thus far, he has produced more than 54 articles and 300 presentations under our auspices."
"I am honored and pleased to be associated with Dr. Steadman in such a dynamic and productive organization. His precedent-setting work in the field of orthopaedics and the Institute's study are held in high regard by the men and women and organizations I admire," said Dr. Philippon. Dr. Philippon produced a hip fellowship program at the University of Pittsburgh Medical Center in 2001. After joining the Vail Clinic, he integrated his fellowship program into the Institute's existing sports medicine fellowship. Because then, Dr. Philippon developed a novel reconstructive technique to treat athletes with deficient labrums. This procedure has allowed professional athletes to return to their sports and its use has been expanded to contain other suitable patients. It has been validated by means of the Institute's clinical database on outcomes. Three of Dr. Philippon's former Fellows are now team physicians with NFL, NBA, and MLB teams.
Dr. Tom Clanton joined the staff of the clinic in August of 2009. He is a talented surgeon who has a worldwide reputation in the treatment of foot and ankle disorders and injuries. This spring, Dr. Rob LaPrade, an accomplished knee surgeon and researcher from Minnesota, will also join the Steadman Clinic. The Steadman Clinic is pleased to announce that former co-director of the shoulder service at Harvard, Dr. Peter Millett, has recently been named Chief of the shoulder service for the clinic.
The Steadman Clinic Physicians
Dr. Richard Steadman – knee injuries and disorders
Dr. Marc Philippon — sports related injuries and disorders of the hip
Dr. Thomas O. Clanton – foot and ankle injuries and disorders and sports medicine
Dr. William I. Sterett – sports medicine, trauma, and injuries of the knee and leg Team Physician for the U.S. Women's Ski Team
Dr. Peter J. Millett – shoulder surgery and sports medicine
Dr. Randy W. Viola — hand, wrist and elbow injuries, sports medicine, limb reattachment
Dr. Donald S. Corenman – spine injuries and disorders
Dr. David C. Karli – physical medicine and rehabilitation, non-operative spine and sports injuries and regenerative medicine
Dr. Tom Hackett — sports medicine, injuries of the shoulder, elbow and knee Team Physician for the U.S. Snowboard Team
Dr. Sanjitpal (Sonny) Gill – spine injuries and disorders and sports spine injuries Team Physician for the U.S. Adaptive Ski Team
When asked why the Clinic name has been changed to the Steadman Clinic, Dr Steadman replied, "We want to emphasize the fact that we now treat all areas in orthopaedics, not just knees and shoulders. In addition, when Dr. Hawkins relocated to South Carolina in 2004, our paths naturally diverged, and it is suitable for Vail to now pick the brand 'The Steadman Clinic.'"
The Steadman Clinic
The Steadman Clinic (www.steadmanclinic.net) in Vail, Colorado — with one extra clinic in Frisco, Colorado — is internationally recognized for developing and refining surgical and rehabilitation methods that have promoted faster and far more productive healing of injured joints. Its focus is as much about helping grandparents to stay active with their grandchildren in the sports they take pleasure in, like skiing, as it is about extending the careers of scores of Olympians and professional athletes, by helping them to get back in the game. Founded in 1990, its physicians are among the finest trained and most experienced in sports medicine and orthopaedic surgery. At the Steadman Clinic, the physician, patient and therapist work as a team, from diagnosis to rehabilitation, to attain the greatest possible outcome. The Steadman Clinic works closely with Vail's Steadman Philippon Investigation Institute (SPRI) by sharing its clinical data with the Institute. Twitter: @SteadmanClinic
Steadman Philippon Analysis Institute
The Steadman Philippon Analysis Institute (SPRI) (www.sprivail.org) is dedicated to keeping men and women of all ages physically active by means of orthopaedic analysis and education in arthritis, healing, rehabilitation, and injury prevention. Founded in 1988 by orthopaedic surgeon Dr. Richard Steadman as the Steadman Sports Medicine Foundation, the 501(c)three charitable organization has influenced the practice of orthopaedics throughout the world. Based in Vail, Colorado, it has become one of the most published organizations in sports medicine research and education.
Share this Post: