Steadman Philippon Institute CEO dies in bicycle accident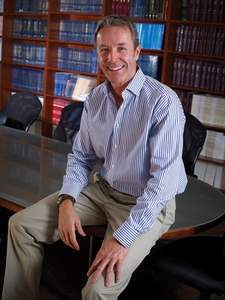 Mike Egan was on vacation in Norway at the time of the accident.
VAIL, Colorado — Mike Egan, president and CEO of the Steadman Philippon Research Institute, died in a bicycle accident June 18 while on vacation in Norway. Funeral services and final arrangements are pending the return of Egan's body to his family home in White Bear Lake, Minn. He was 58.
At the time of the accident, Egan was on a multi-day trip above the Arctic Circle with his brother Tim and two Norwegian friends. Egan is survived by his two children, Kristen, a special education teacher in New York City, and Tim, who works in the medical device industry and lives in Boulder. Egan is also survived by seven brothers and sisters, most of whom live in Minnesota.
"This is an incredible loss that is felt by his family, all of us here and his many friends and colleagues around the world," said Dr. Richard Steadman, founder of the Steadman Philippon Research Institute. "He will be greatly missed."
Egan had served as president and CEO of the independent, nonprofit, orthopedic research and educational institute since December 2006. Before joining the institute, Egan founded and ran several successful medical device companies and venture capital firms in 33 years of experience in the medical device industry and 19 years of investing experience.
"We are resolved and committed to honoring Mike's memory and fulfilling his legacy by continuing his vision for the Institute and by implementing the programs and plans that he had previously outlined to us," said Dr. Marc Philippon.
Egan was remembered by people at the institute as a close friend and respected colleague.
"Mike was an all-caring person whom I've known and worked with for 19 years, quickly becoming best friends and confidants," said Marc Prisant, executive vice president and chief financial officer of the institute. "Anyone who had the great fortune to know Mike knows that he stood for excellence, honesty and integrity. We will miss his physical presence in our lives as a colleague and as a friend, but we will honor him always and be proud to continue the work he started at the Institute."
Doris Kirchner, CEO of Vail Valley Medical Center, where the institute is located, said, "Learning of Mike's tragic death has left me with great sadness. He was dynamic, extremely intelligent and driven by a high level of integrity. He will be missed greatly on the campus of (the medical center)."
Egan served on numerous boards, including the Deming Center for Entrepreneurship at the University of Colorado in Boulder; iBalance Medical, Inc., in Boulder; Cardica, Inc., in Palo Alto, Calif.; and Venture Lending & Leasing in San Jose, Calif.
Share this Post: