Steadman Philippon Research Institute International Scholar Attends Annual AAOS Conference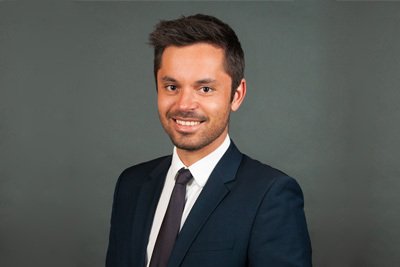 Creating Collaborations and Exposure to New Technology Highlight Event
Dr. Lucca Lacheta from Munich, Germany is a surgeon and researcher in the International Scholars Program at Steadman Philippon Research Institute (SPRI). The American Academy of Orthopaedic Surgeons (AAOS) holds an annual meeting of orthopaedic surgeons from all over the world. It was recently held at the Sands Expo in Las Vegas. More than 12,000 orthopaedic surgeons attended and 700 exhibitors shared the latest innovations and technology in orthopaedics.
"It's so impressive and an honor to be here," said Dr. Lacheta, who was attending for the first time. "It's one of the biggest meetings in the world. At AAOS you get an overview of what's happening right now in orthopaedic medicine. You see what's state of the art, but more importantly, you meet people from all over the world. It's a chance to create and expand collaborations with medical professionals everywhere."
Dr. Lacheta has been at SPRI since August 2018 in a one-year appointment. He spends his time with Dr. Peter Millett, an internationally recognized orthopaedic surgeon at The Steadman Clinic who specializes in disorders of the shoulder, knee, elbow and other sports-related injuries.
"When I observe surgeries with Dr. Millett, I see his precision and try to repeat it in the Surgical Skills lab," said Dr. Lacheta. "The lab work helps me try out and investigate new ideas. I then investigate them to improve patient care."
The majority of Dr. Lacheta's time is spent in the research labs at SPRI.
"At SPRI, I work with many different departments," said Dr. Lacheta. "Dr. Millett has recently been developing a new technique to treat instability of the shoulder joint by using very small suture anchors. We completed a biomechanical study at SPRI to prove that this minimally-invasive approach restores the strength of the native, uninjured shoulder joint. We will now publish and share our findings, which have already changed our daily practice.
"SPRI is also known worldwide for its clinical outcomes research. There is so much data that allows you to see exactly what's working. Surgeons everywhere are interested in SPRI research because of the clinical outcome studies generated by the high surgical volume."
As Dr. Lacheta's year is heading toward a close, he can't say enough about how special his time has been at SPRI.
"This year has been outstanding because of the unique opportunities that were offered to me," said Dr. Lacheta. "There are many international fellowships all over the world, but what one can achieve in this wonderful environment in one year is incomparable. Everybody works hand in hand, and everything moves so quickly, always focusing on meaningful and life changing studies."
"I'm so proud to be part of the International Scholar Program and the Steadman family. I will continue to learn every day in an effort to offer patients better outcomes. That's exactly what they're doing at The Steadman Clinic and SPRI.""
Share this Post: