Steadman Philippon Research Institute Program Inspires Local Students to Pursue Science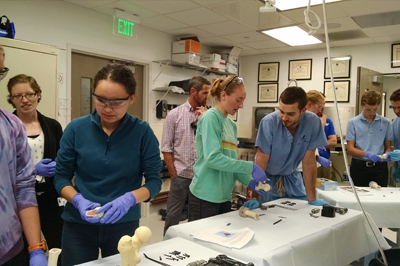 Elementary School Children See Science Up Close, Select Vail Valley H.S. Students Participate in Prestigious Science Club
Vail, Colorado, March 21, 2018 – Eagle County students are pouring into Steadman Philippon Research Institute (SPRI) to participate in a unique program designed to inspire future scientists and researchers. The Education and Public Outreach Committee (EPOC) is a multi-tiered program open to local students from grades five through high school.
"By offering Eagle County students a chance to see and learn what world-class scientific researchers do, we hope to foster an interest in science," said Senenne Philippon, founder and chair of the EPOC program. "Students can experience some of the most advanced and high-tech biomedical engineering and surgical education labs in the world."
"The EPOC program was established to inspire the next generation of scientists through exposure to science, technology, engineering and math (STEM)", said Kelly Stoycheff, fellowship and education coordinator. "With our three-tiered program, EPOC reaches hundreds of students."
About 400 fifth graders from nine different schools participate in SPRI laboratory tours on three different occasions during the course of each year. Sixth through eighth graders interact with SPRI in a different way; SPRI scientists and researchers visit schools for classroom or assembly lectures to speak with students about the cutting-edge research taking place at SPRI. Additionally, researchers and scientists participate as judges at local middle school science fairs.
When a student reaches high school, the program becomes more advanced for those selected to be part of the EPOC Science Club.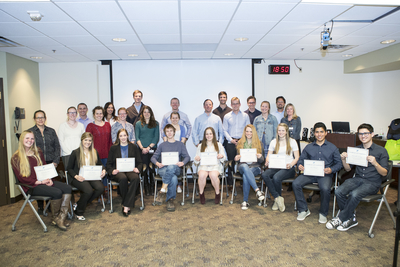 The high schools have an intensive application process. It includes a letter of intent, a written essay and a review of a scientific article. A total of 10 students—two per school—are selected by teachers from Vail Christian High School, Vail Mountain School, Vail Ski and Snowboard Academy, Battle Mountain High School and Eagle Valley High School.
When selecting students, teachers must emphasize the time commitment of the program. The year-long program spans 20 weeks, includes 10 club meetings and requires a minimum of 15 hours of direct, personal education and training with professional scientists and engineers.
The fall semester started the journey with two assigned projects, a hip fracture repair biomechanics project and an imaging project. For the imaging project, Science Club students looked at a joint in the body. They were required to identify that joint and then determine if it had any abnormal conditions. During the spring semester, the student teams take on the role of researchers and scientists.
"Each team of two students is matched to engineer and scientist mentors," said Dr. Travis Turnbull, the deputy director of
biomedical engineering at SPRI
. "We allow them to pick a project that sparks their interest."
At the end of the spring semester, when the projects are complete, Science Club students present their materials to professional researchers, scientists and clinicians. Project mentors say final presentations often look like a masters or doctorate-level thesis defense. It's a challenging program, but students say the experience will be worth the effort.
"I've never had the opportunity to explore the world of medical science and see if it's something that I'd truly enjoy doing," said Lily Shapcott, a student from Vail Mountain School. "I thought that joining the Science Club would provide me with an opportunity to test the waters and see if it's something I'd like to pursue. So far it most certainly is. I look forward to the rest of the year and feel extremely fortunate to have been chosen to participate in this program."
"This program demonstrates that
The Steadman Clinic
and SPRI are engaged in the community and do so much more than treat elite athletes," said
Dr. Turnbull
. "EPOC represents the importance SPRI places on education. We enjoy sharing high-tech and cutting-edge technology with the younger generation. We all get involved and it's a pleasure to be able to work with people that share the same passion. We really have our hearts behind this program."
Through all three tiers of the EPOC program—fifth grade, middle school and high school—more than 2,000 Eagle County students have interacted with SPRI scientists and researchers since it was founded in 2011.
Share this Post: