Stem Cell Researchers Find Inspiration In Unexpected Places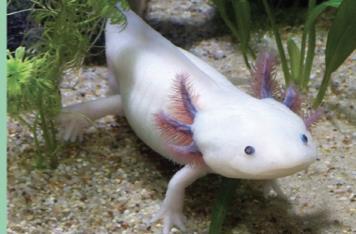 SPRI's Dr. Chelsea Bahney Cites the Regenerative Powers of the Axolotl in Remarks at Orthopaedic Research Society meeting in Austin
Inspiration often comes in unusual forms.
Dr. Chelsea Shields Bahney, Principal Investigator and Program Director for Bone Repair and Skeletal Engineering at Steadman Philippon Research Institute (SPRI), refers to the axolotl as a source of inspiration. It's a species of aquatic salamander found in Mexico. Unlike humans, the axolotl holds the power of regeneration.
Clinicians, scientists, veterinarians, biologists and engineers recently gathered for five days at the annual meeting of the Orthopaedic Research Society (ORS) in Austin, Texas. The ORS mission is to advance musculoskeletal research and cell regeneration. The conference offers peer-to-peer interaction with researchers from around the globe.
"Musculoskeletal disease and injuries affect nearly one in two adults in the United States, leaving over 150 million people suffering from conditions such as lower back pain, osteoarthritis or broken bones," said Dr. Bahney. "ORS researchers aim to innovate new strategies that will change the landscape of how we treat these patients to keep people moving healthier for longer. We hope by sharing the exciting results of the important orthopaedic research at ORS, we will inspire others as they see how this research can change lives."
The first night of the conference was standing room only for the "Open Door" discussion co-sponsored by SPRI, one of the premier research labs in the world, and moderated by Dr. Bahney, who is also an ORS board member.
One topic discussed at the Open Door was stem cells. With a touch of humor and in very simple terms, one researcher described a stem cell as a teenager that hasn't decided what it wants to be yet, but that with proper guidance can become critical to healing. Stem cells can be harvested from a patient's subcutaneous fat and may eventually be used to regenerate cartilage, bone and muscle.
In other words, stem cells can make humans more axolotl-like.
"At SPRI, our cross-disciplinary teams of biologists, engineers and clinicians are able to translate our research on stem cells from bench-to-bedside," said Dr. Bahney. "Through philanthropy and advances in technology, everything we learn is enhanced. Even the axolotl inspires researchers at SPRI and around the world to discover methods of cell regeneration that will translate to positive benefits for millions of humans."
The ORS Open Door event invited the public to discover tomorrow's bone and joint treatments in order to envision a world without musculoskeletal limitations.
For more information about supporting the research and educational programs at SPRI visit www.sprivail.org.
Share this Post: