The Future of Detecting Bone Healing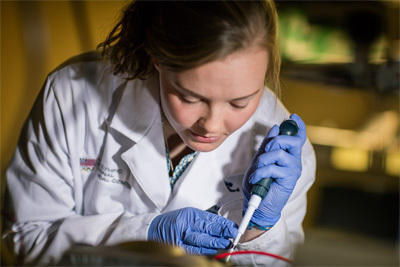 SPRI's Lizzie Morris Presents Research on a Novel Biomarker for Quantitatively Measuring Fracture Healing at Annual ORS Meeting
"If you break your tibia and feel like it isn't healing, it may not be, but right now there's no early way to detect that," said Lizzie Morris, research technician at Steadman Philippon Research Institute's (SPRI) Center for Regenerative Sports Medicine (CRSM).
Morris recently presented a poster on her research at the annual Orthopaedic Research Society (ORS) meeting in Austin, Texas. The meeting provides a venue for peer-to-peer interaction with top researchers from around the world.
"Current clinical practice uses physical exams and X-rays to monitor fracture healing. The problem is that bone heals through a cartilage intermediate, which isn't mineralized, so X-rays can't detect any healing during this phase," said Morris. "Our research looks at Type X Collagen, which is a marker of cartilage cells that are becoming bone cells. So as a fracture heals, and the cartilage begins to transition to bone, you get a spike of Collagen X expression that drops off as the tissue mineralizes to bone. If there is no spike in Collagen X or if its levels never drop back to baseline, you have a nonunion, meaning that your fracture isn't healing normally and you may need further intervention.
"At the moment patients with potential nonunions have to wait until their fractures take longer than three times the normal rate of healing, which may be six months to a year following the original bone injury, before insurance will approve surgical intervention. Validation of the Collagen X Bioassay was recently published in Science Translational Medicine1, one of the top scientific journals, and our new preliminary work suggest that we can use this Bioassay to quantitatively and biologically assess patients' fracture healing. Not only do we believe this biomarker would be able to provide personalized healing trajectories for patients, but we hope it can also provide reliable evidence for earlier intervention in cases of nonunions."
Morris attends the annual ORS meeting each year to see and learn from the array of research, take that knowledge and apply it at SPRI.
"When you come to a conference like ORS you can attend so many different presentations," said Morris. "The different work that people are doing gives me really good insight and new ideas for my own projects. SPRI is really special because of the access to physicians. You can better understand what patients actually need based on working with our surgeons. Without such a connection, it's much more difficult to make your basic science research translate to the clinic."
Devoted to her work, Morris embraces the long-term vision of CRSM. "Someone may ask 'what can you do for me tomorrow.' The answer is – we might not be able to do anything for you specifically, but in 5 years we hope that we can change clinical practice and improve outcomes following orthopaedic injury. The foundational research we do at SPRI helps us understand what is actually going to work and what is safe before it can translate to the patient. That is our ultimate goal."
Coughlan RC et al. A degradation fragment of type X collagen is a real-time marker for bone growth velocity. Sci Trans Med. Dec 2017. DOI: 10.1126/scitranslmed.aan4669 (http://stm.sciencemag.org/content/9/419/eaan4669)

Share this Post: