Tyler Carter, U.S. Paralympic Alpine Team and Tommy Ford, U.S. Olympic Alpine Team Headline Athlete Speaker Panel at 6th Annual Injury Prevention Symposium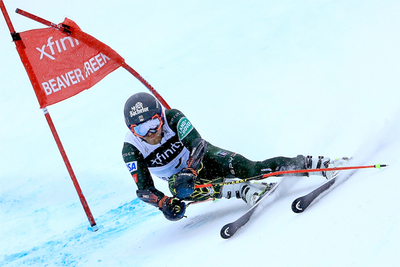 VAIL/COLORADO SPRINGS, COLO. – Alpine skiers Tyler Carter and Tommy Ford were the featured athletes in the final panel of the 6th Annual Injury Prevention Symposium, hosted by The Steadman Clinic/Steadman Philippon Research Institute (SPRI) and USOPC. The two-day event, now in its third year as a virtual presentation and delivered live to physicians, scientists, athletic trainers and other health practitioners around the globe, finished Thursday afternoon (April 28).
Dr. Marc Philippon, Managing Partner of The Steadman Clinic and Co-Chair of the Steadman Philippon Research Institute in Vail, Colorado, and Dr. Jonathan Finnoff, the Chief Medical Officer of the United States Olympic and Paralympic Committee (USOPC) moderated the discussion.
Tommy Ford is a nine time National Champion and a member of the 2022 U.S Olympic Alpine Team. Tyler Carter is a three time Paralympian and was also chosen as flag bearer at the 2022 Paralympic Games. Carter lost his right leg below the knee at the age of one due to a congenital condition. Both fielded questions ranging from injuries to how they started Alpine skiing.
"Hurling yourself down as fast as possible, there's just nothing else like that," said Carter when asked about how he began skiing. "When I was eight and nine, you know, really young, not having people focus on the leg but focusing on my skiing and what I was doing, that was cool and stuck with me my whole career."
Tommy Ford began a little differently.
"I started when I was really young, about two years old and just really enjoyed it," said Ford. "I loved going to the mountains and being in the snow and just playing around. It became an extension of play. As I got older, I just really enjoyed the feeling of it and the speed, the arcing, the competition was fun, and the games were fun but really, it's being on snow that's the main highlight to me."
They both were asked about the difficult travel schedules for training and races.
Ford said, "I've gotten used to that and learned how to make home on the road."
Carter shared he tries to bring a little bit of home with him.
"I had a few things that I traveled with all the time," said Carter. "Whether it was my book or my favorite pillow to just keep that little bit of home with you wherever you go. And then honestly, you know, our team is like a family. If you're with your family, then you feel like you're at home."
Both agreed that maintaining focus and continuing to be motivated every single day can be tough, so you have to take a break sometimes. Tyler Carter leans toward music and chocolate ice cream, while Tommy Ford likes Yoga and mind exercises.
"I have to learn to taper off a bit too," said Ford. "Otherwise, I get pretty drained. I do mindfulness tactics like focus on my breath throughout the day.
"Sometimes it's hard to come back to that focused state of mind. I remind myself why I'm doing this. What gets me to become focused is to get out there and see the big picture."
Both were asked about injuries and the process of returning to the sport. Tommy Ford has faced several very serious injuries over the years, many treated at The Steadman Clinic. He spoke about how important it is to have a team of clinicians that knows you and works with you. But he wanted to add one very important comment before the panel ended.
"I would say family is a big factor in recovery and having a good physical therapy team," said Ford. "There's also a lot of attention to detail through the National Medical Network that the USPOC has set up. [Before surgery] they help me with flights and set up hotels. They help coordinate the billing and insurance through the elite athlete's health insurance the USPOC helps provide. These are things that you don't always see at the surface, but are huge in the recovery because it becomes stressful at times."
Carter agreed about the importance of working with a great team.
"The common factor is they get it, and they can relate to you," said Carter. "They understand that you're an elite level athlete, but you're a person, too. I think that it's important not to skim over the mental side of things, too. They understand I'm a skier, but I also want to do this other stuff in life. I don't want to just get healthy for skiing. I want to get healthy across the board."
Carter, who works full time at the Olympic and Paralympic Museum also had some final notes to share before the panel ended.
"Just go out and be your best, live your best life. At least that's what works for me."
And this…
"Some people will laugh at this, and hopefully you do, but I love The Rock, Dwayne Johnson. His workouts are insane. He's awesome and I was just talking at physical therapy earlier today that my next goal is to get quads like he has. I don't know if I can do that. They are massive. I live and breathe that kind of mentality that you just push yourself. Enjoy it but keep working and don't give up."
For further information, contact Lynda Sampson, VP External Affairs (
lsampson@sprivail.org
, 970/479-1563)
Share this Post: