University of Wisconsin's Dr. Mark Markel Has Seen the Vail Scientific Summit Grow and Expand Over Its Five Years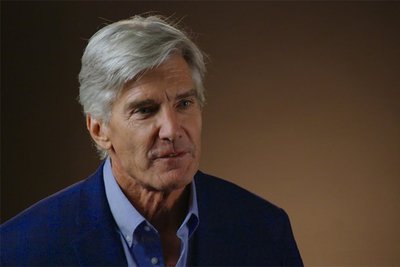 Growth cited not just in number of attendees but also in breadth of topics covered
VAIL, Colo. – Steadman Philippon Research Institute's (SPRI) Vail Scientific Summit (VSS) reached a milestone this summer—its fifth annual meeting—and did so with many prominent returning "friends and family," to go along with a fresh assortment of new guests from the worlds of science and regenerative medicine.
One of SPRI's friends and family members was Dr. Mark Markel, longtime dean of the School of Veterinary Medicine at the University of Wisconsin. Markel was one of the speakers at the very first VSS back in 2015 and has participated in all but one of the first five gatherings.
A leader in scientific research, Markel was drawn to the initial VSS for several reasons, but primarily because of his relationship with one of the Summit's driving forces and supporters.
"I became involved with the first Vail Scientific Summit mainly due to my relationship with Mike and Mary Sue Shannon," said Markel during one of the breaks at the August meeting at the Vail Marriott Mountain Resort. "Mike is heavily involved with the School of Veterinary Medicine at the University of Wisconsin in Madison where I serve as dean. He and Mary Sue have also been a fixture in the community here in Vail for decades."
Shannon, Chairman of KSL Capital Partners, has worked closely with SPRI and The Steadman Clinic for many years and has long been a proponent of the growth and expansion SPRI has been experiencing in recent years. Shannon's name is also at the center of one of the most frequently told stories each summer at the VSS—the tale of how the idea of a Summit first came into discussion.
One of the leaders at SPRI—be it Co-Chair Dr. Marc Philippon, CEO Dan Drawbaugh or Chief Scientific Officer Dr. Johnny Huard—usually relates the story at the Summit's opening dinner each August. The shortened version is this: A few weeks after Huard joined the SPRI team in May 2015, he was joined for lunch by Philippon, Drawbaugh and Shannon. The four discussed future plans for the newly-appointed chief scientific officer and one of the ideas—attributed to Shannon—was to have a big scientific meeting each summer in Vail. And not just any meeting, but one that would attract many of the world's top researchers and clinicians in the expanding world of regenerative medicine. Several major research hospitals, clinics and universities around the country were hosting such meetings, so, Shannon suggested, why not one here in Vail?
It seemed like a great idea and one that would help Huard put his stamp on SPRI, already one of the top research centers in the nation. Huard loved the challenge and looked forward to hosting the first Vail Scientific Summit, probably in a year or so since he had only arrived in Vail a few weeks earlier.
But—as the story goes—Shannon did not want to wait.
"Mike wanted to bring in all these folks to focus on regeneration," said Markel. "He teased Johnny pretty early on to coordinate this Scientific Summit and bring people in from all over the world. When Johnny said next year, Mike said, 'Why not this summer?'"
History will show that Huard accepted Shannon's challenge and less than four months after that lunch, the first Vail Scientific Summit took place. The annual event has grown with each summer and this year attracted its first title sponsor in Canon Medical.
"What I've noticed over the years is not only the growth of people who attend but also the expansion of the breadth of the people who come," said Markel, who spoke this year on the need for large animal models in research for orthopaedic surgery. "Whether it's basic scientists, clinicians, sometimes even athletes, it's been a dramatic coalescence of people with a variety of interests on which to focus. It could be cartilage, it could be bone, it could be tendon, it could be sports. It's been amazing that these people can all come together and discuss advances in science that might help people become healthier, stronger and live longer.
"And it's all thanks to that lunch that Mike, Marc and Dan had with Johnny a few years ago," Markel said with a smile. "We hear that story every year but we all love listening to it because it created this wonderful week we all spend in Vail each summer learning more about everything from aging to other topics in regenerative medicine.
"This Summit brings people from the whole gamut of science and medicine to talk differently about things in their field," added Markel. "There is great strength in that."
For further information or other inquiries about The Steadman Clinic or Steadman Philippon Research Institute, contact Lynda Sampson, Vice President of External Affairs (lsampson@sprivail.org).
Share this Post: