What They Are Saying About the Vail Scientific Summit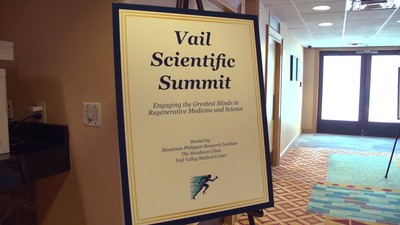 "When I am in a room surrounded with such brilliance and such creativity and forward-thinking thought, my thinking is elevated. Who wouldn't want to be in that environment?" – Dr. Vonda Wright, Opening Night Keynote Speaker
September, 2021
VAIL, CO – Steadman Philippon Research Institute's (SPRI) 6th Annual Vail Scientific Summit was held at the Vail Marriott Mountain Resort (Aug. 19–21). After missing a year due to the COVID-19 pandemic, the Summit returned with nearly 50 speakers/presenters and a strong contingent of participants, guests and sponsors who were eager to share and learn more about regenerative medicine.
Below is a collection of comments from Summit speakers about the SPRI event that has become a priority on the calendars of many top surgeons, scientists, researchers and clinicians.
---
"We really wanted to do this meeting in person, but knew that meeting face-to-face these days is very difficult, with many of the regularly scheduled meetings being canceled or postponed indefinitely. It was a challenge. But we needed to show the world the protections we have with vaccinations and that all of our precautions were in place to hold a safe and productive meeting." —Sudheer Ravuri, PhD, Co-Chair of the Organizing Committee, 6th Annual Vail Scientific Summit, SPRI
---
"One thing that I like about this year's meeting is that we have a lot of very young people involved. Some have just gotten their PhDs and some have not yet finished their doctoral work. We had a couple of young people from my team here at SPRI that talked to the group, and they really shined on the podium.
"That is a great look ahead at our future in clinical and basic science research. That's another positive aspect of bringing in people to speak who are not as established but still have a great message to get across. They have the enthusiasm and the fire and I think they have made this a great meeting." —Johnny Huard, PhD, Chair of the Organizing Committee, 6th Annual Vail Scientific Summit, Chief Scientific Officer, SPRI
---
"This SPRI conference is important to me for several reasons.
"Number one, it is easy to get a stack of journals every month and keep up and read what is happening. But at this conference, you have the ability to meet face-to-face, over the lunch table with the legends of aging science and of sports science and have real conversations and dig deeper on what is not even printed.
"I think all of us rise to the occasion, and I personally feel that when I am in a room surrounded with such brilliance and such creativity and forward-thinking thought, my thinking is elevated. Who wouldn't want to be in that environment?" —Vonda Wright, MD, MS, Sports Medicine, Northside Hospital Orthopedic Institute, Atlanta, Opening Night Keynote Speaker
---
"I was blown away by conversations, the discussions and the research that has been presented, and also to have the chance to interface with leading researchers from around the world who are doing the groundbreaking research of tomorrow." —Dustin Anderson, MD, Orthopaedic Interventionalist, Sports, Spine and Regenerative Medicine, PM&R and Pain Medicine, The Steadman Clinic
---
"The reason I wanted to come here was because of the diversity of the attendees and the diversity of the kinds of lectures that we would hear. I can't hear this kind of diversity at other scientific conferences. The interaction with my colleagues, my peers and people that I have either met or have not met in the past is really what draws me.
"One thing that was really interesting when looking through the program was that I did not know many of the speakers. On one hand, some people may say 'Oh, I'm not going to go. I don't know many people.' But I took the other approach. 'There's a lot of good people to meet and a lot of new people to learn from and to interact with.'" —Scott Bruder, MD, PhD, Bruder Consulting
---
"The Vail Scientific Summit is a very unique opportunity for the basic scientists and clinician scientists to be in the same room, listen to each other, ask questions in a face-to-face situation and open up opportunities for collaboration in the future. People are in the same room saying, 'Wow, I'm working on that as well. I have an interest in that.'" —Leslie Vidal, MD, Shoulder, Hip, Knee and Sports Medicine Specialist, The Steadman Clinic
---
"The first (Summit) I attended was as a fellow five years ago, so it was still in somewhat of a nascent form. I give all the credit to Johnny (Huard) for how he's built it up, not only the breadth of topics but the number of heavy hitters in the science realm who are here. It's truly unbelievable to have some of the greatest minds in our area scientifically who are here to present." —Jonathan Godin, MBA, MD, Shoulder, Hip, Knee and Sports Medicine Surgeon, The Steadman Clinic
Share this Post: