What They Said About the Fifth Annual Vail Scientific Summit: Advances in Regenerative Medicine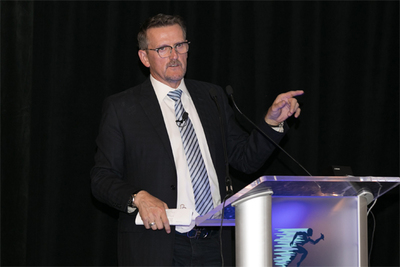 Fifth Summit a Rousing Success: "Best One Yet," Said Chair Dr. Johnny Huard
VAIL, Colo. – The Vail Scientific Summit just keeps getting better and better. And that viewpoint comes from almost every physician, scientist, clinician and researcher that has been a part of one or more of the five annual summer events organized by Steadman Philippon Research Institute (SPRI) and this year sponsored by Canon Medical.
The annual conference began in the summer of 2015, shortly after Dr. Johnny Huard arrived in Vail to become the Chief Scientific Officer at SPRI. Every August thereafter, the Vail Marriott Mountain Resort has been the scene of the yearly affair, with each conference focusing on topical issues and studies in regenerative and translational medicine.
The program was elevated in 2019 by the addition of speakers and representatives from a number of prominent agencies from the worlds of health and science.
"For the first time, we have the National Institutes of Health with us—the NIH," said Dr. Huard. "We have representatives from the Department of Defense. We have leaders from the Orthopaedic Research Society. We are creating a buzz and that is exactly what we want to do with this meeting each year."
Attendance and participation numbers have grown each year, but the meeting has remained small enough to encourage what Dr. Huard firmly believes is the best part of the event—collaboration among its presenters and attendees.
"Collaboration is the key. Every year we get more collaboration with new people and new ideas, presented from a different point of view, whether it be from a scientist or a surgeon. I love the fact that we can spend our breaks between sessions having conversations with each other about regenerative medicine, aging, spine and neck issues, stem cells or whatever the topic of that day is. Sharing ideas and new methods of research is what we all love to do at these meetings.
"There is no doubt in my mind that this year's Vail Scientific Summit was the best one yet."
Following is a sample of what others had to say about the 2019 Vail Scientific Summit:
Marc J. Philippon, MD, Managing Partner, The Steadman Clinic and Co-Chair of SPRI
"It is amazing to see that the topics are expanding. The collaboration is expanding. The people from the Department of Defense and the NIH are really impressed with the program that we have put together. We knew that with Johnny's leadership the Vail Scientific Summit would move to great things, but truly it is amazing to see that this conference has exceeded our expectations. Essentially this is a think tank to help us all take better care of our patients."
Troy Flanagan, PhD, Director of Performance, Milwaukee Bucks (NBA)
"The interesting part about this conference is the different walks of life that everybody comes from—the scientists, clinicians, or practitioners like me from an NBA team. We all come with a different agenda, but share a common theme in trying to work out how to use these advances in technology to help athletes return from surgery and injury faster and stronger and able to perform better."
Mark Markel, DVM, PhD, University of Wisconsin
"What I've noticed over the years is not only the growth of people who attend, but also the expansion of the breadth of the people who come. Whether it's basic scientists, clinicians, sometimes even athletes. It's been kind of a dramatic coalescence of people with a variety of interests focused on—it could be cartilage, it could be bone, it could be tendon, it could be sports—it's been amazing that these talented individuals can all come together and discuss advances in science that might help people become healthier and stronger."
James Iatridis, PhD, Icahn School of Medicine at Mount Sinai, President of ORS
"The Vail Scientific Summit is a really special meeting because it's both a small size and it brings a wonderful group of people together. Because it's nice and small with a lot of time for discussions, we have the opportunity to start to form new collaborations with others from different fields of study. That would be much harder to do at a larger meeting. And the environment in Vail is paradise, allowing us to unwind and relax in the sunshine and beauty of this area."
Leslie Vidal, MD, The Steadman Clinic
"It's been really incredible to see the number of world-renowned scientists that are here, not only sharing their knowledge but also learning from each other. There is so much crossover between different fields and that makes the panels and discussions just that more interesting. For me, this was my first chance to attend the Summit and first opportunity in a long while to discuss basic science issues with leaders in the research and clinical fields. I look forward to being a part of more Scientific Summits with Dr. Huard and the SPRI staff in years to come."
Regis O'Keefe, MD, PhD, Washington University in St. Louis
"One of the fun things about my dual role is that sometimes I get to wear my orthopaedic surgeon hat and sometimes I get to wear my scientist hat. The individuals that are here are real leaders in both fields. Most of the investigators are presenting not only their data that they have published but also their unpublished data. That leads to exciting discussion and helps us to focus more on the new data we are hearing for the first time at the meeting."
Scott Bruder, MD, PhD, Bruder Consulting, Venture Group
"I have not been to this Summit before. I've seen it advertised. When Johnny (Huard) called me and said that he needed to have the issue of product development and the FDA (Food and Drug Administration) on the agenda and what it means to the scientist and the clinician, I jumped at the opportunity because I knew there would be a very high-level science group and an interesting blend of people to address."
For further information or other inquiries about The Steadman Clinic or Steadman Philippon Research Institute, contact Lynda Sampson, Vice President of External Affairs (lsampson@sprivail.org).
Share this Post: