Dr. Dustin Anderson on Serving on the Staff of The Steadman Clinic: "I'm Around Hall of Famers Every Day"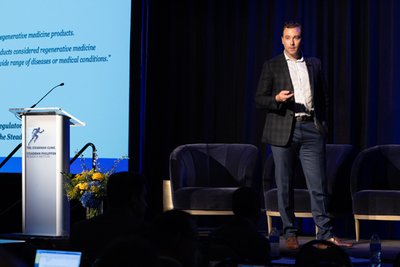 A member of The Steadman Clinic team at the new Aspen location speaks at his second Vail Scientific Summit
VAIL, Colorado – Dr. Dustin Anderson, one of the more recent additions to The Steadman Clinic's team of orthopaedic surgeons and physicians, recently had the opportunity to speak at his second Vail Scientific Summit. He cherished the opportunity to again be part of the event, which celebrated its seventh meeting this summer.
At the Summit, Dr. Anderson spoke on the regulatory landscape in regenerative medicine, a topic that is very important to the staff at The Steadman Clinic and Steadman Philippon Research Institute (SPRI).
"At The Steadman Clinic, we really want to optimize outcomes for patients," said Dr. Anderson. "And I don't think anyone is satisfied with the status quo. We want to provide treatment that elevates our practice beyond what's currently being practiced across the United States. We have patients fly to Vail, Aspen, Frisco, Dillon and Basalt because they expect us to be on the cutting edge of medicine and not just copying what everyone else is doing. We are very mindful and respect the regulations and are always striving to find new ways to give our patients the very best care they can get."
Dr. Anderson, whose title at the clinic is a long and impressive one—Orthopaedic Interventionalist, Sports, Spine & Regenerative Medicine, PM&R and Pain Medicine—is soon to complete his second year at The Steadman Clinic, Aspen and also practices at the newest Steadman location in Basalt.
"It's been a pretty incredible journey," he said. "I joined the team almost two years ago now and we have really made some inroads into the valley," said Dr. Anderson. "We recently opened our new surgery center in Basalt and it has been very well received by the Aspen community. It's really been great to get to know the community and connect with the athletes there as well as the community members, who are athletes in their own right."
Dr. Anderson goes to work each day with nothing but respect for where he is and with whom he is working. "I look around at my colleagues and I'm inspired to be around them every single day," said Dr. Anderson. "We all push each other to be better. Everyone cares so deeply about the patients and that seems to be the driving force. It's more than just a job. It's a calling.
"Everyone who's here understands that we're here to be the best. We're going to give the best to our patients. It's a standard that you live up to.
"It's like being on a great, historic football team," continued Dr. Anderson. I'm around Hall of Famers every day. And anything I can do to help the team is important."
For further information, contact Lynda Sampson, VP External Affairs (
lsampson@sprivail.org
, 970/479-1563)
Share this Post: