Hope For Patients With Herniated Disc-Related Back Pain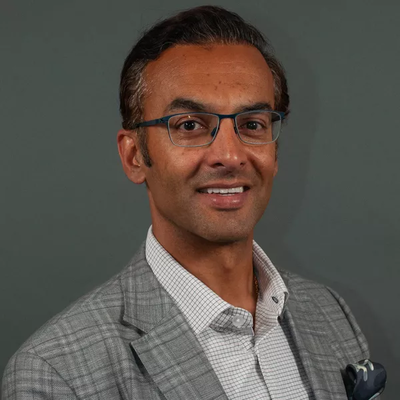 Sonny Gill, M.D. of The Steadman Clinic and Steadman Philippon Research Institute Discusses His Latest Research at the 8th Annual Vail Scientific Summit
VAIL, COLO. - August, 2023 - For 17 years, Sonny Gill, M.D. and his team of researchers have been creating a knowledge base of what causes disc degeneration of the spine while also working on the best way to regenerate the disc.
Dr. Gill, a neck and spine surgeon at The Steadman Clinic (TSC) and the Steadman Philippon Research Institute (SPRI), was a featured speaker on day two of the 8th Annual Vail Scientific Summit.
"My life is about asking, how do I keep people athletic, mobile and moving?" said Dr Gill. "Whether it's that grandparent who wants to chase after a kid or the elite athlete who wants to get on the podium again."
Dr. Gill says the struggle surgeons and researchers face now is around improving the available technology. "Our hope is maybe 10 years from now, we might have a biological disc replacement," said Dr. Gill. "We can create that compressibility, that motion, that biometric action that our body has, when we do any sport, walk, swim or even stand without pain. Think about a teacher trying to stand all day."
Much of Dr. Gill's disc research is still done with a team at Clemson University that he started many years ago, but he also continues extensive research at Steadman Philippon Research Institute (SPRI).
"At SPRI, it's incredible how we've been able to dovetail the clinical spere and also the scientific arena," said Dr. Gill. "We scientifically use all the data from SPRI and apply that to our patients, and it helps them with their return to activity."
Dr. Gill was a fellow at The Steadman Clinic and SPRI in 2004.
"One of the honors that was bestowed upon me this year was getting named head team physician for the U.S. Ski Team for the freestyle component," said Dr. Gill. "I've taken care of these skiers since I was a fellow, and traveled all over the world with them - Japan, Russia, Europe, Asia, South America. Just recently I went to the country of Georgia for the World Championships.
"I've known some of these kids since they were on the development team, went on to the Olympic team, and now, they are coaches."
Dr. Gill concluded saying with everything that has happened in his career since his fellowship, it's a dream come true to be back working in Vail.
"This is my heart, my soul, my passion. It's family with my partners. I will tell you they are some of the world's greatest surgeons, scientists, and clinicians, so I'm honored to be their partner and colleague."
For further information, contact Lynda Sampson, VP External Affairs (
lsampson@sprivail.org
, (970-479-1563)
Share this Post: