Dr. Johnny Huard Named Recipient of Prestigious ORS Kappa Delta Award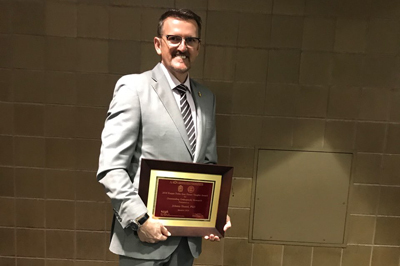 SPRI's Chief Scientific Officer lauded for his significant research in the musculoskeletal system
VAIL, Colorado, March 8, 2018 – Dr. Johnny Huard, PhD,
Chief Scientific Officer
and Director of the Center for Regenerative Sports Medicine at the Steadman Philippon Research Institute (SPRI), has been named a recipient of the prestigious 2018 ORS (Orthopaedic Research Society)
Kappa Delta Award
.
This award is one of three presented annually to persons who have performed research in orthopaedic surgery that is of high significance and impact. The awards are bestowed for outstanding manuscripts that focus on basic and/or clinical research related to the musculoskeletal system.
"Since
Dr. Marc Philippon
recruited Dr. Huard to Vail a few years ago, we've gotten to know Johnny as not just as a world-class scientist, but as someone who is fueled by a personal mission to improve people's lives," said Dan Drawbaugh, CEO of SPRI and The Steadman Clinic. "His work is generating significant advancements in regenerative medicine. All of us at the Steadman Philippon Research Institute are gratified to see Dr. Huard and his staff recognized for the groundbreaking research they have accomplished in our laboratories in Vail. We congratulate Johnny and look forward to supporting his future research endeavors here at SPRI."
The ORS Kappa Delta Award has a significant history. In 1947, at its Golden Anniversary, Kappa Delta Sorority announced the establishment of the Kappa Delta Research Fellowship in Orthopaedics, the first award ever created to honor achievements in the field of orthopaedic research. The first annual award, a single stipend of $1,000, was made available to the Academy in 1949 and presented at the group's annual meeting in 1950.
In 1961, the sorority increased the number of awards from one to three, and over time their dollar value has been raised. At present, three annual awards of $20,000 each are given. In the years since its inception, the Kappa Delta Awards have totaled over $1 million.
Dr. Huard joined the SPRI staff in the spring of 2015. Prior to his move to Vail, he served for 20 years as the Henry J. Mankin Professor and Vice Chair for Musculoskeletal Cellular Therapeutics and the Director of the Stem Cell Research Center in the Department of Orthopaedic Surgery at the University of Pittsburgh. In addition to his role at SPRI, Dr. Huard also serves as Distinguished Professor and Vice Chair for Research in the Department of Orthopaedic Surgery at the University of Texas Health Science Center in Houston.
Dr. Huard is the Chair of SPRI's Research Advisory Committee (RAC). He also founded (in 2015) and chairs the Vail Scientific Summit annual meeting each August. There are over 65 speakers from around the world participating in this regenerative medicine program. His research laboratory focuses on the identification, characterization and clinical application of muscle derived stem cells for the treatment of a myriad of conditions.
Dr. Huard has authored over 300 manuscripts including peer-reviewed articles, review articles, invited papers and book chapters for various high profile scientific journals and has had 757 abstracts accepted for presentation at national and international conferences.
Share this Post: